Ipsy Glam Bag is a monthly beauty sample subscription service. They usually send about 5 deluxe and full-size items according to your preferences. There's a waitlist when you sign-up. To bypass the waiting period, you'll need to follow instructions and share Ipsy with your social accounts and follow their stylists. The August 2015 theme is Prep School!
Subscription: Ipsy
Category: Women, Beauty, Makeup
What's Included: 4 to 5 deluxe and full-size beauty products tailored to you in a collectible Glam Bag.
Price: $10 per month or $110 per year (which equals one month free).
Ships To: US and Canada (add $4.95 for shipping to Canada).
Read more Ipsy reviews.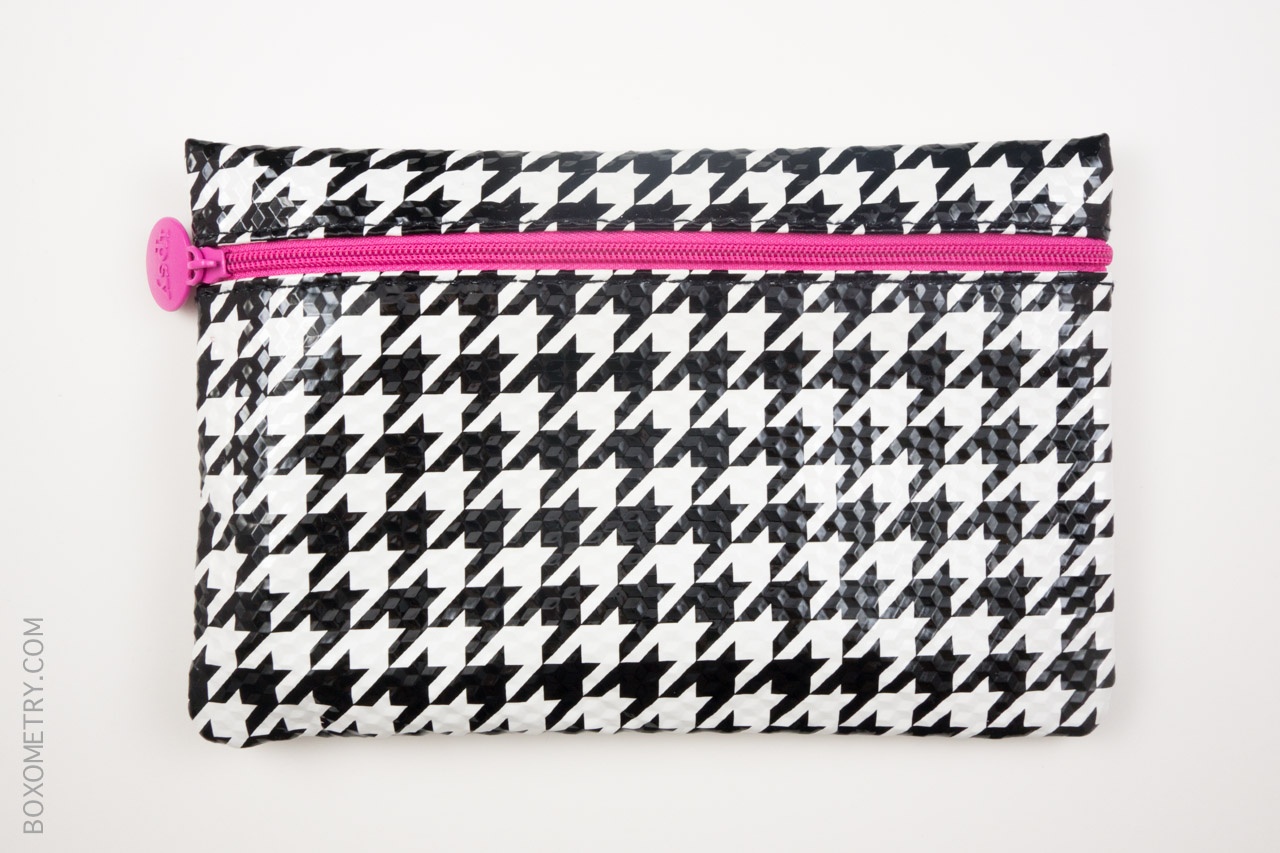 This month's glam bag has a "preppy" black and white pattern. The bag is made out of a plastic or vinyl material, which sort of resembles the feel of patent leather.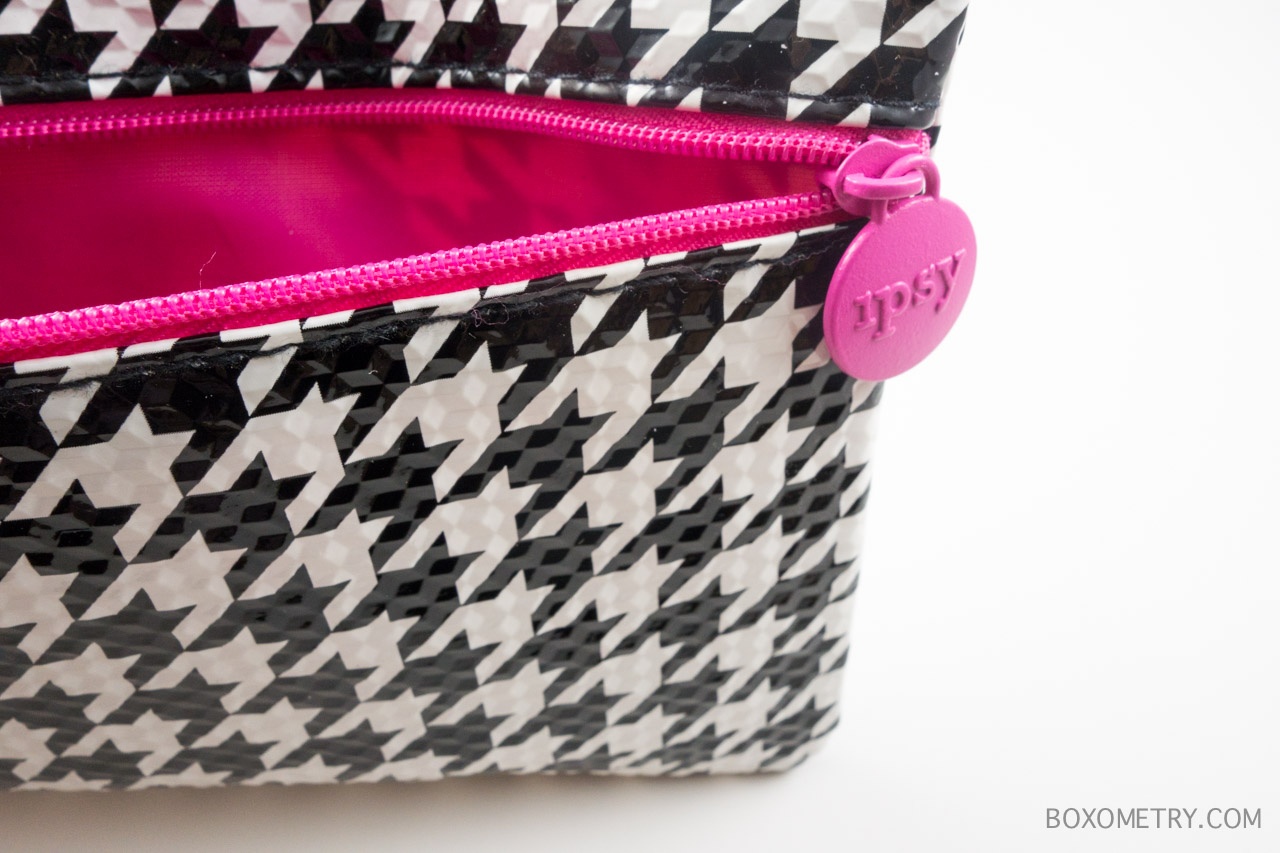 Here's a closer look at the zipper and inside.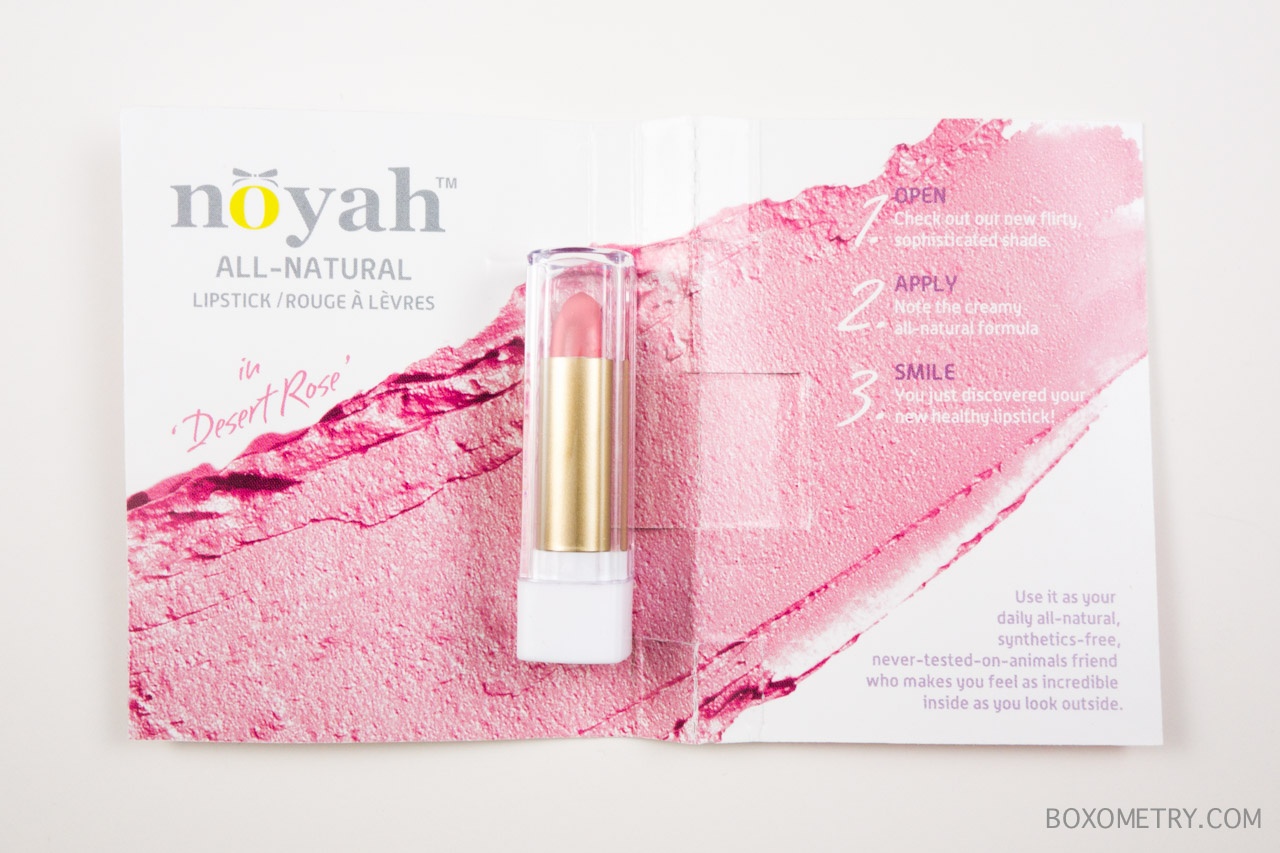 Product: noyah All-Natural Lipstick (1.4 g)
Retail Value: $5.60
I received this lipstick in "Desert Pink," which is a bright pale pink color. I am not sure if everyone got the same shade for this lipstick, but it definitely has a prep school "school girl" feel to it.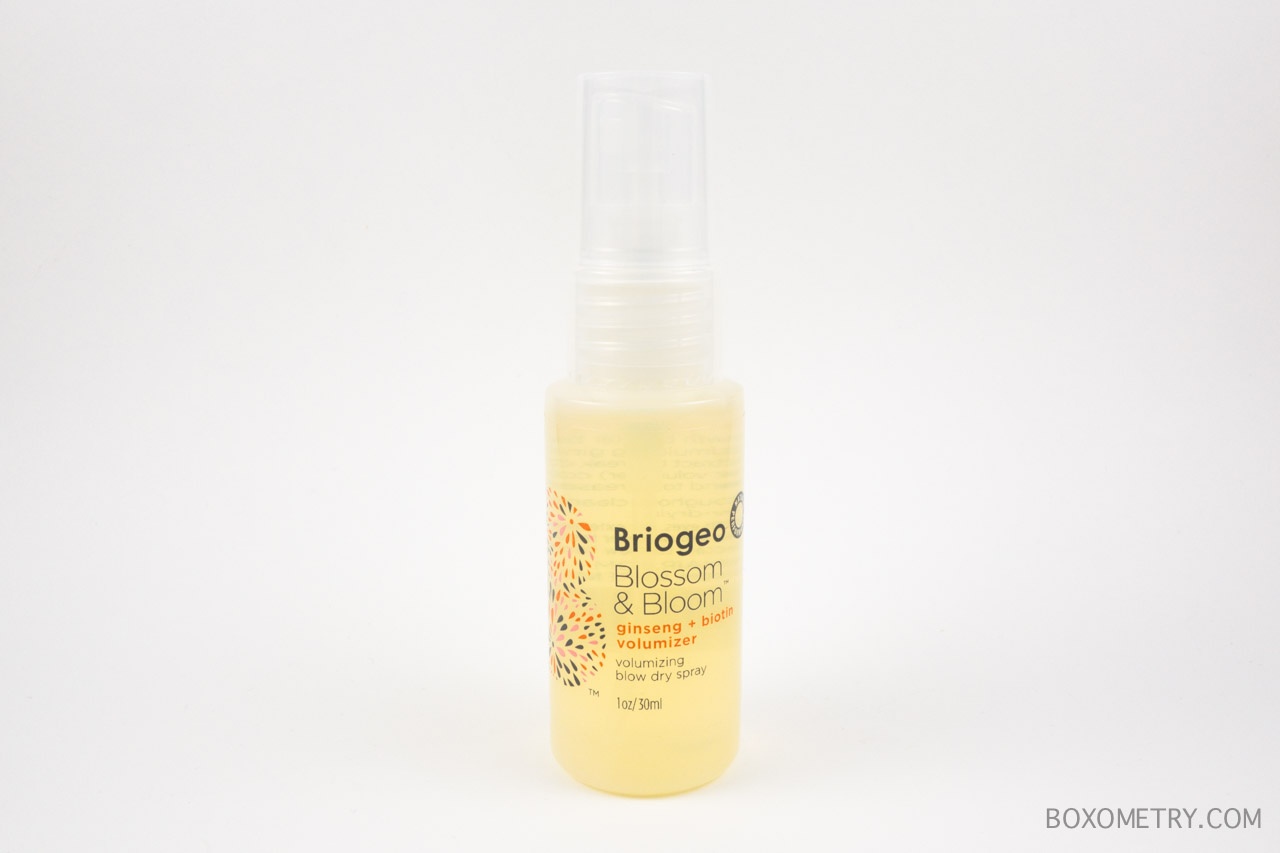 Product: Briogeo Blossom & Bloom Blow Dry Spray (1 oz)
Retail Value: $3.53
I should have used this before blow drying today! This is a volumizing spray used on damp hair prior to blowing drying. I like the light sweet scent and will be sure to use it next time I wash my hair.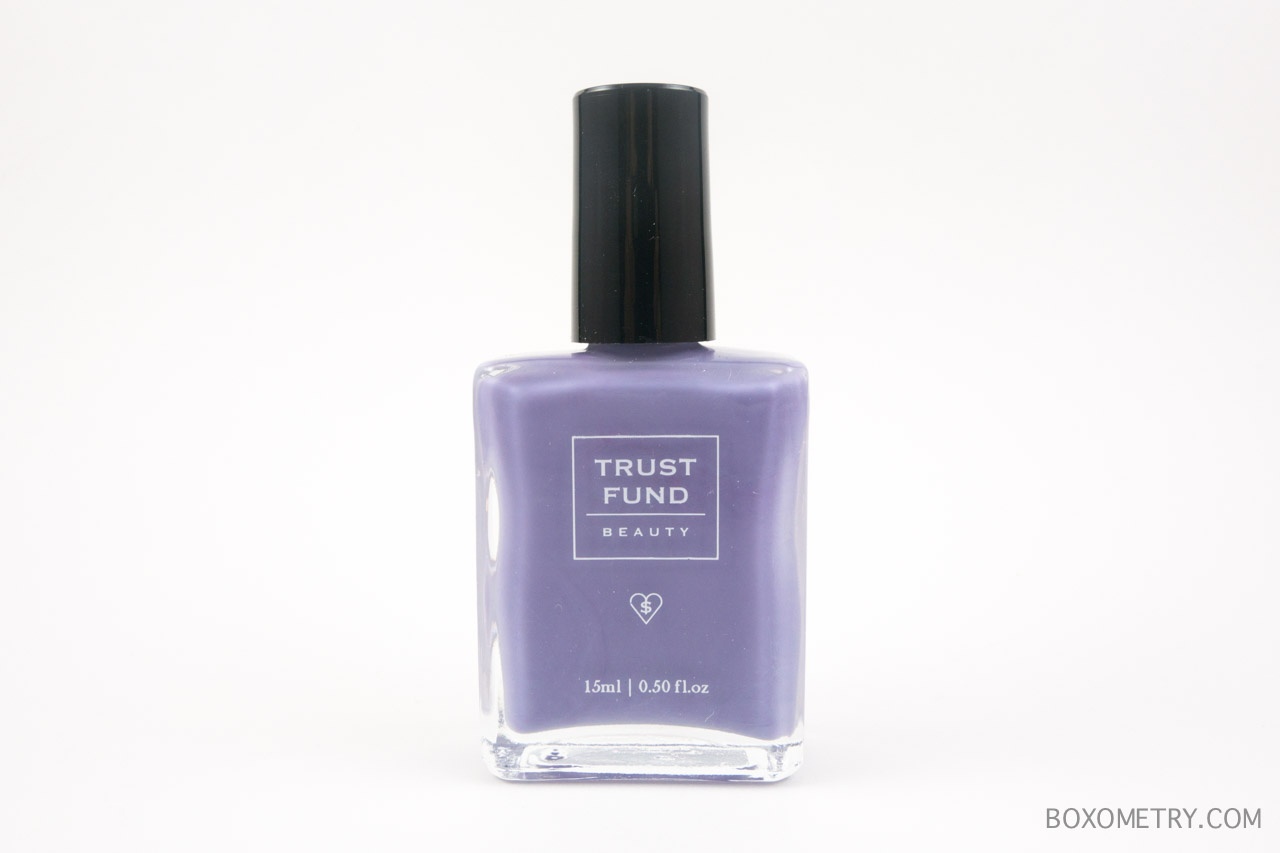 Product: Trust Fund Beauty Nail Polish in Elegantly Wasted
Retail Value: $15.00 (Full Size)
I received a Trust Fund Beauty nail polish from another subscription box and really like it. The color is called Elegantly Wasted, which is a dark lilac shade. If you are not familiar with Trust Fund Beauty, their nail polishes are 5-free, which means they are made without toluene, formaldehyde, lead, nickel, and phthalates. It is also vegan and cruelty-free.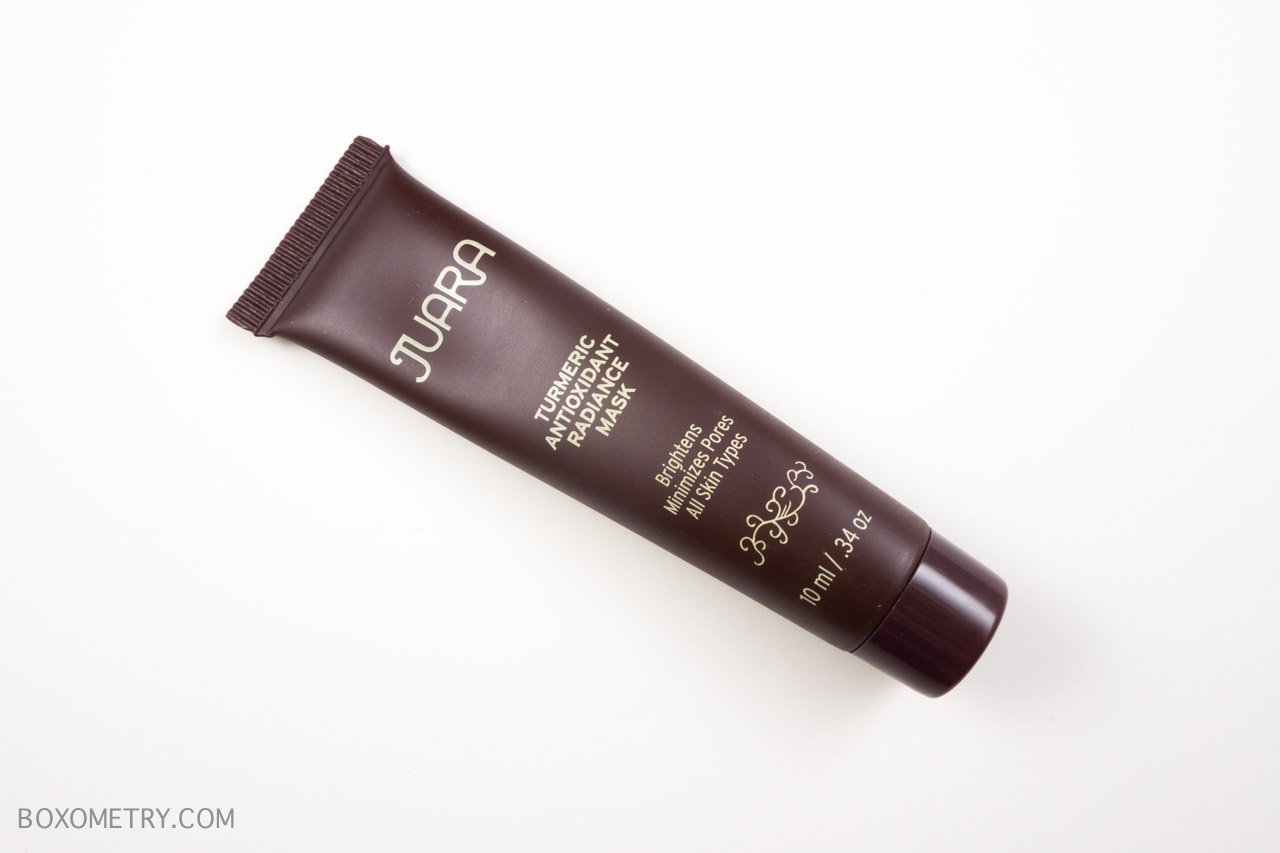 Product: Juara Turmeric Antioxidant Radiance Mask (0.34 oz)
Retail Value: $3.97
I'm a little hesitant on trying a new face mask because the last two different brands I tried caused an allergic reaction. However, the Juara radiance mask is supposed to be 100% vegetarian, and free of parabens, phthalates, fragrance and harsh chemicals. Perhaps I will give it a try on a small patch of my skin before using it on my face.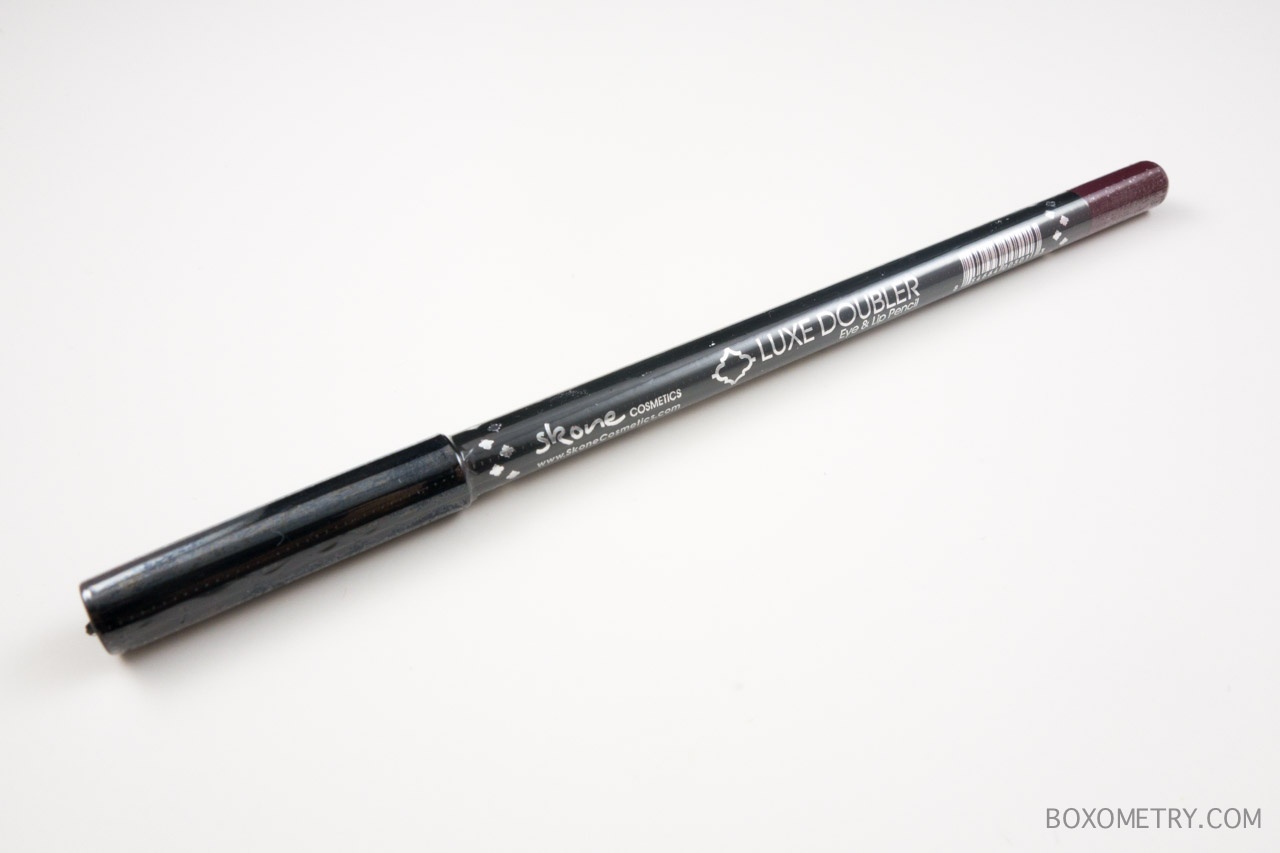 Product: Skone Cosmetics Luxe Doubler Eye & Lip Pencil
Retail Value: $12.00 (Full Size)
I like the idea of this "doubler." It is both an eye and lip pencil. I'm not a huge fan of eye pencils, but I will use a lip pencil. The color I received is "Wine," which is a burgundy shade.
Final Thoughts: This is the first month that the value is below $50, which is fine because $40 is still great and I like the curation. There's a good variety of products from skincare to hair to makeup. I especially like the glam bag this month. It's a simple pattern that feels both "preppy" and "vintage-y."