Honest Company (Organic Infant Forumula + DHA Bundle)
$119.95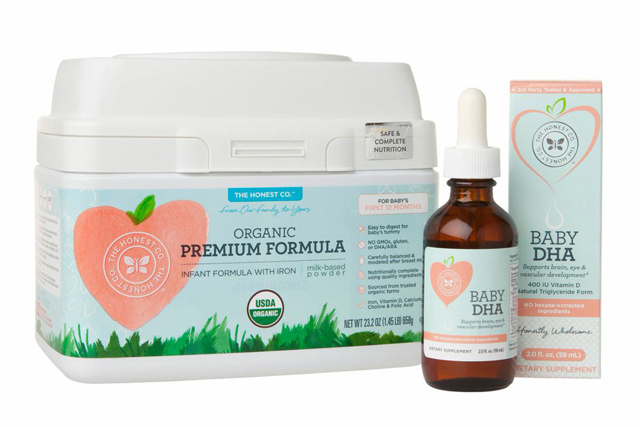 Subscribe Now »
The Honest Company has a nice selection of environmental friendly baby products, household goods, vitamins, and etc. They also offer monthly subscriptions with discounted bundle pricing. You can customize the bundle depending on your needs.

The Organic Infant Formula + DHA Bundle is their newest addition. Each Bundle contains four 23 oz. canisters of formula plus one bottle of Baby DHA. You can customize the frequency and cancel anytime by calling their customer service at 1.888.862.8818.

Organic Infant Formula Ingredients: Organic Nonfat Milk, Organic Lactose, Organic Glucose Syrup Solids, Organic Palm Oil Or Palm Olein, Organic Soy Oil, Organic Coconut Oil, Organic High Oleic (Safflower or Sunflower) Oil, Organic Whey Protein Concentrate, Less Than 1%: Organic Soy Lecithin, Taurine, Ascorbyl Palmitate, Mixed Tocopherol Concentrate, Calcium Hydroxide, Calcium Phsophate, Cupric Sulfate, Ferrous Sulfate, Magnesium Phosphate, Manganese Sulfate, Potassium Bicarbonate, Potassium Chloride, Potassium Iodide, Sodium Citrate, Sodium Selenite, Zinc Sulfate, Ascorbic Acid, Beta-Carotene, Biotin, Calcium Pantothenate, Choline Bitartrate, Cyanocobalamin, Folic Acid, Inositol, Niacinamide, Pyridoxine Hydrochloride, Riboflavin, Thiamine Hydrochloride, Vitamin A Palmitate, Vitamin D (Cholecalciferol), Vitamin E (Dl-Alpha Tocopheryl Acetate), Vitamin K (Phytonadione). Contains Milk and Soy Ingredients.

Free of: GMO ingredients, pesticides, antibiotics, growth hormones, gluten, wheat, carrageenan, peanuts & tree nuts, artificial sweeteners, artificial flavors, artificial colors, added sucrose, melamine, phthalates & radiation processing.

Produced in a facility inspected annually by the FDA. Proudly made in the USA. Currently they do not ship formula to Canada.

The list price for the organic infant formula is $29.95, so with the bundle pricing, you are getting the Baby DHA for free ($20 savings). DHA helps support brain and eye development, which is important in the first two years of growth. If you are using formula as supplement, your baby will be able to get DHA through breast milk (assuming you consume DHA in some form). However, if you are exclusively formula feeding, then the Baby DHA in the bundle is a great addition. According to the Honest website, the fish oil they use is sourced from small, wild-caught (not farmed), cold ocean-water fish, and then carefully batched using proprietary purification, deodorization, and stabilization processes for maximum safety and freshness.

Please check out their site for additional nutrition information and supplement facts.