I've been subscribing to Citrus Lane since my son was born, and it's one of my favorite subscription boxes. If you are not familiar with Citrus Lane, it is a monthly subscription for newborns and kids up to 5 years of age. They send an assortment of baby or kid's products based on the specified gender and age. My box is for a six month old boy.
Subscription: Citrus Lane
What's Included: 4-5 toys, books, snacks, clothes, or toiletries for newborns and kids up to 5 years of age. Sometimes there's even an item for mom.
Price: $29.00 per month with free shipping (or 3-month for $27.00 per month, 6-month for $24.00 per month).
Ships To: US only.
Read more Citrus Lane reviews.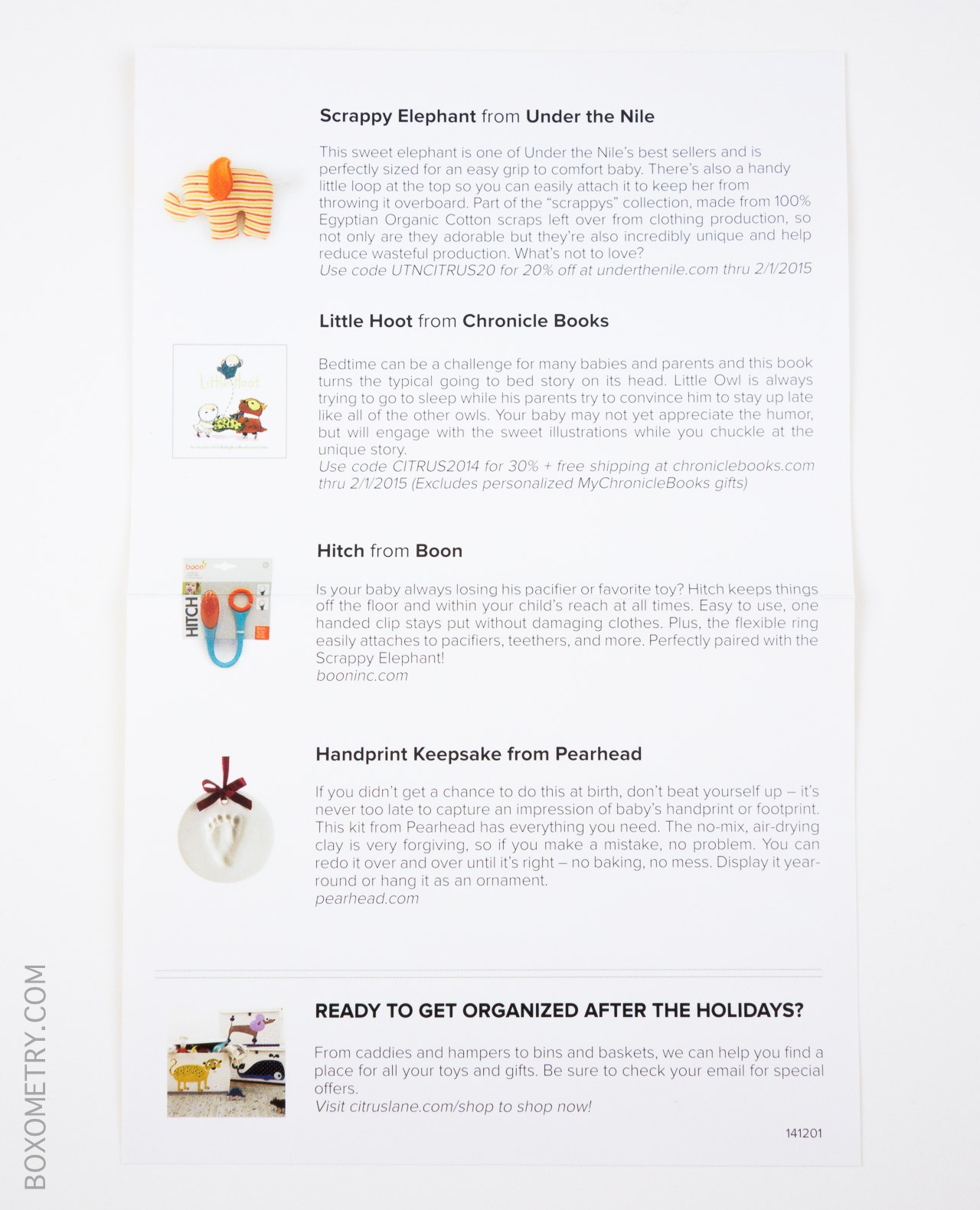 The box comes with a folded card detailing all of the included products, and you'll often find promo codes from the companies that produced the items. This month there are coupon codes for 20% off at Under the Nile, and 30% off at Chronicle Books with free shipping.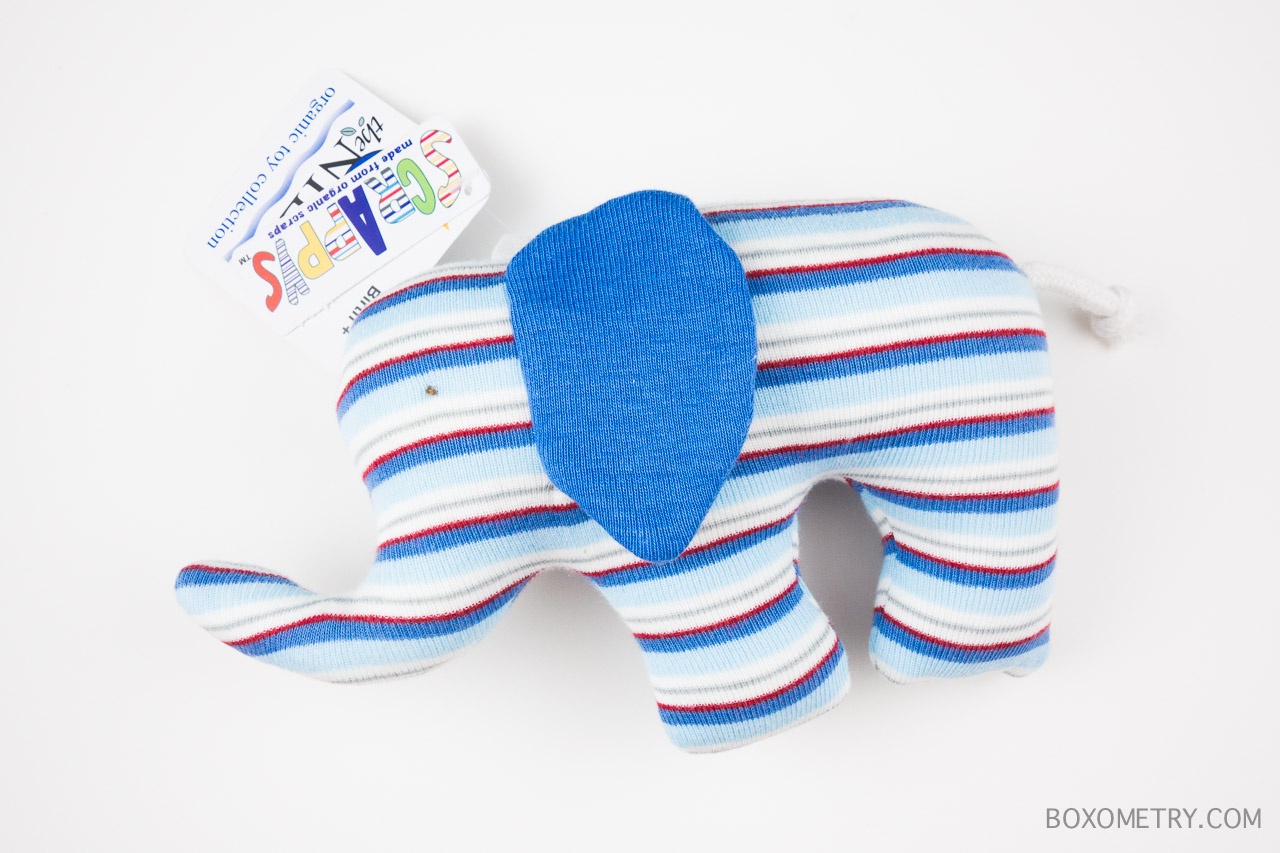 Product: Scrappy Elephant (Under the Nile)
Retail Value: $8.00
I learned about the company Under the Nile while I was searching for organic baby products, so I am super excited to receive this toy. As you can probably guess, this elephant is made from organic materials. According to the manufacturer site, Under the Nile Scrappys are made from 100% Egyptian Organic Cotton Scraps left over from their clothing production, which is also 100% GOTS certified. What a great way to recycle! Since this is made from leftover fabric, there's quite a variety of patterns.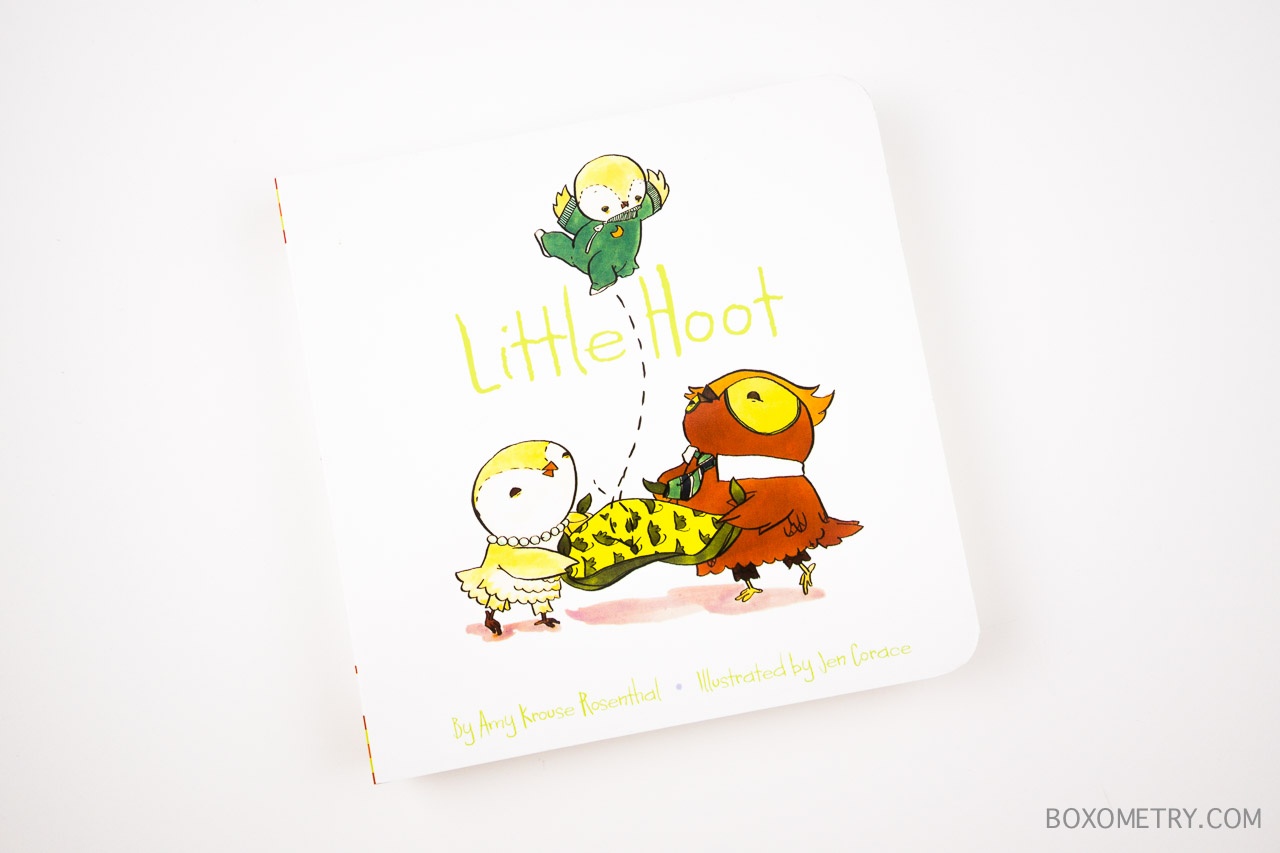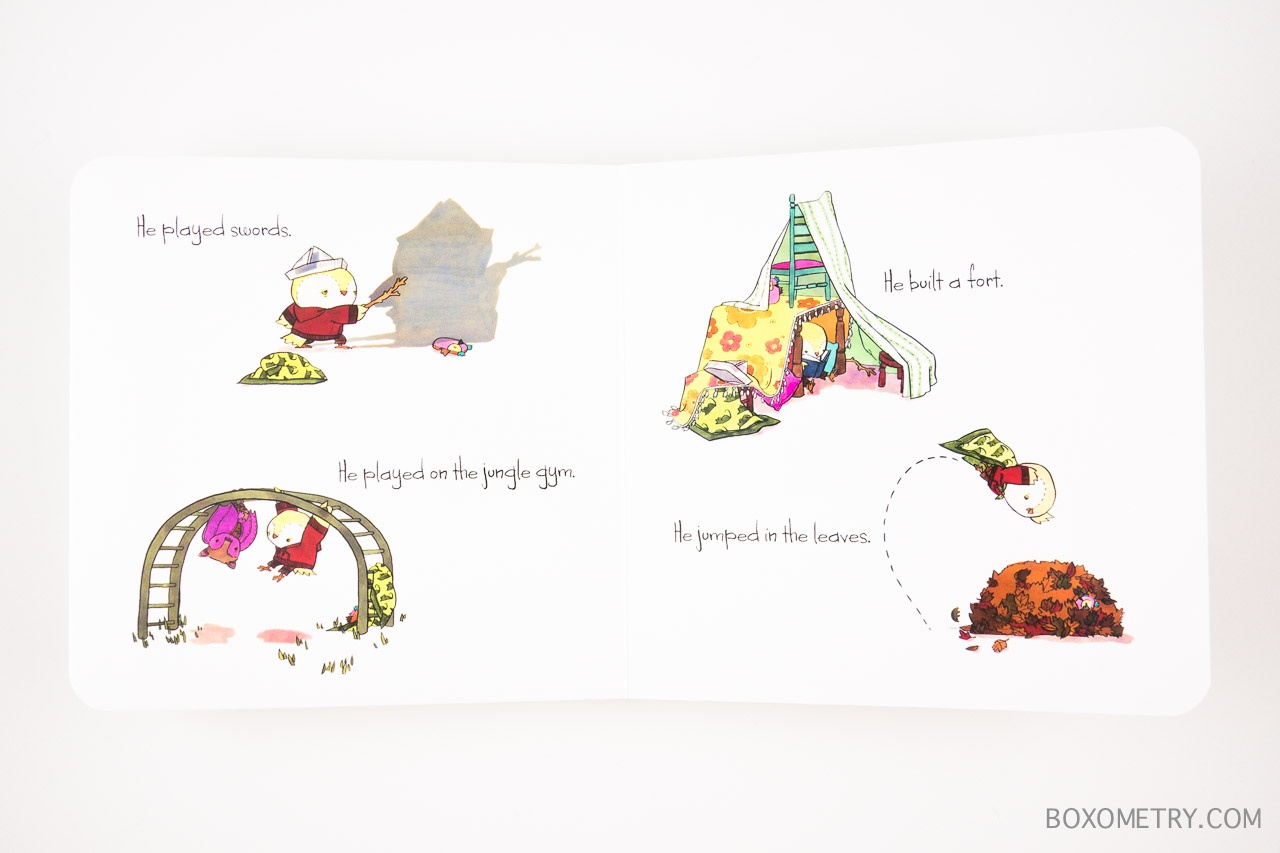 Product: Little Hoot (Chronicle Books)
Retail Value: $14.99
My husband and I read this book, and it gave us quite a laugh. It's about a little owl who wants to sleep early, while his parents convinces him to stay up late like all the other owls. The concept of sleeping early is foreign to our baby. He struggles to stay awake even when it's past his bedtime. The humor in this book would be completely lost on our little one, but he enjoys being read to so it'll still be useful. Plus, the illustration is super cute!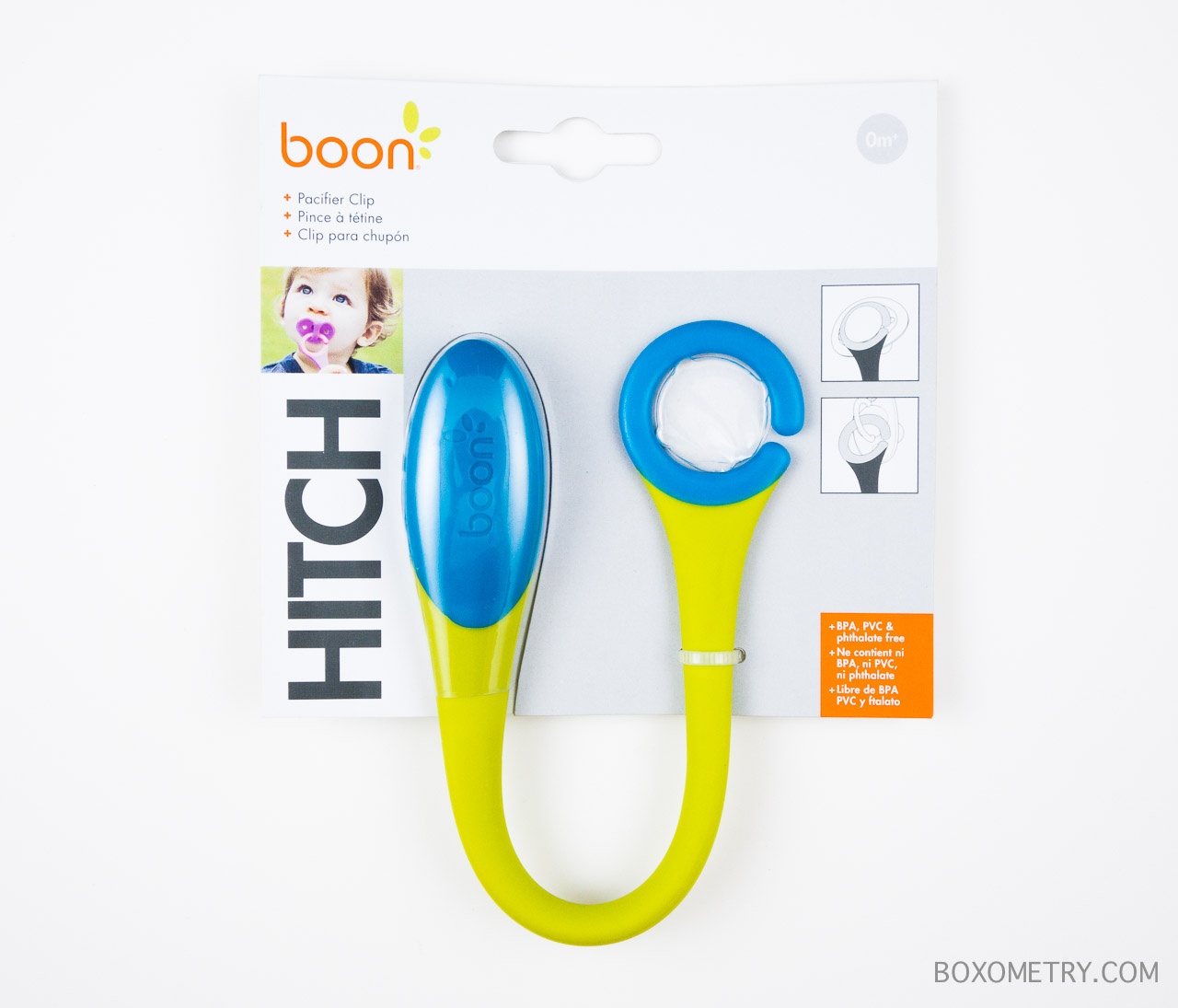 Product: Hitch Pacifier Clip (Boon)
Retail Value: $7.49
The Boon brand is very familiar to me since we use a couple of their products including their high chair. One of the challenges with selecting a pacifier clip is finding a good clip. We've tried both metal and plastic clips, but they both feel hard in different ways and have sharp corners. I always have a fear of my son rolling onto his belly with the clip, and it would just dig into his skin when he press down on it. The clip on the Boon pacifier clip is rounded, smooth, and flat, but the 'string' part is a little rigid and isn't as fluid. I guess I'm still searching for that perfect pacifier clip.
Product: Babyprints Ornament (Pearhead)
Retail Value: $12.95
We did an impression of our little guy's foot when he was three and half weeks old through a local shop. It turned out nicely, but it was also double the price of this kit. This is another brand we're pretty familiar with since we own some of the baby keepsake products they make. The babyprints ornament is a nice addition, and an appropriate item for the holiday season.
Final Thoughts: The total retail value of this box is $43.43, which is actually a little lower compared to some of their past boxes. However, I like almost everything that's included so I think this month's box is well curated for me. All of the items are full size and no filler samples, which is something I appreciate.