The Crafty Mail is a brand new handcraft subscription box. Each month, they send 10-15 different samples, with at least 1 full-size handmade product. August is their second box, and it includes a super adorable item from the creator herself. Please note that this box was kindly sent to us for review purposes. No compensation was received, and all opinions are my own.
Subscription: The Crafty Mail
Category: Other, DIY & Crafts, Artisan
What's Included: 10-15 handcrafted sample items, with at least 1 full-size handmade product.
Price: $30 per month (US and CA), and $35 per month (AU and EU).
Ships To: US, CA, AU, and EU. Shipping fee included in the price.
Read more The Crafty Mail reviews.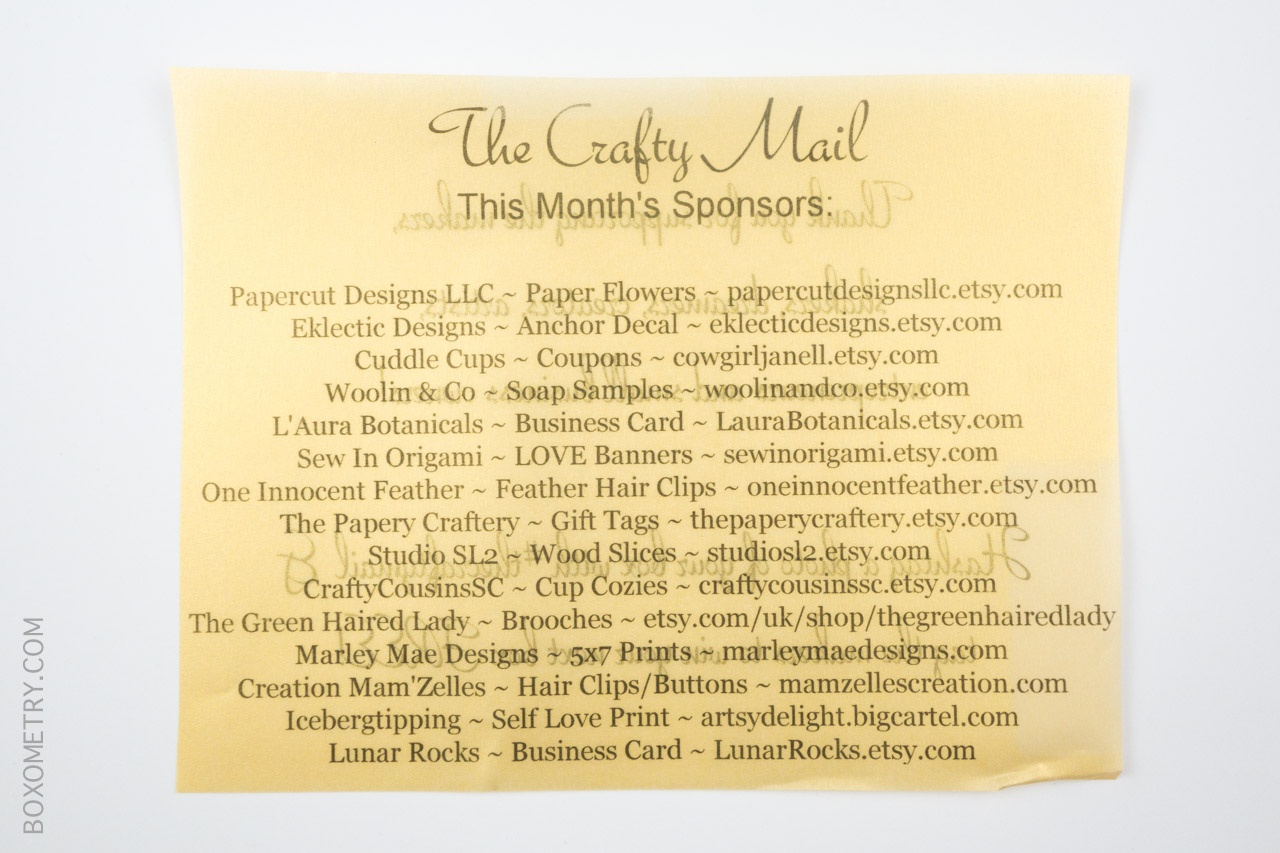 The box comes with a card indicating this month's sponsors and items.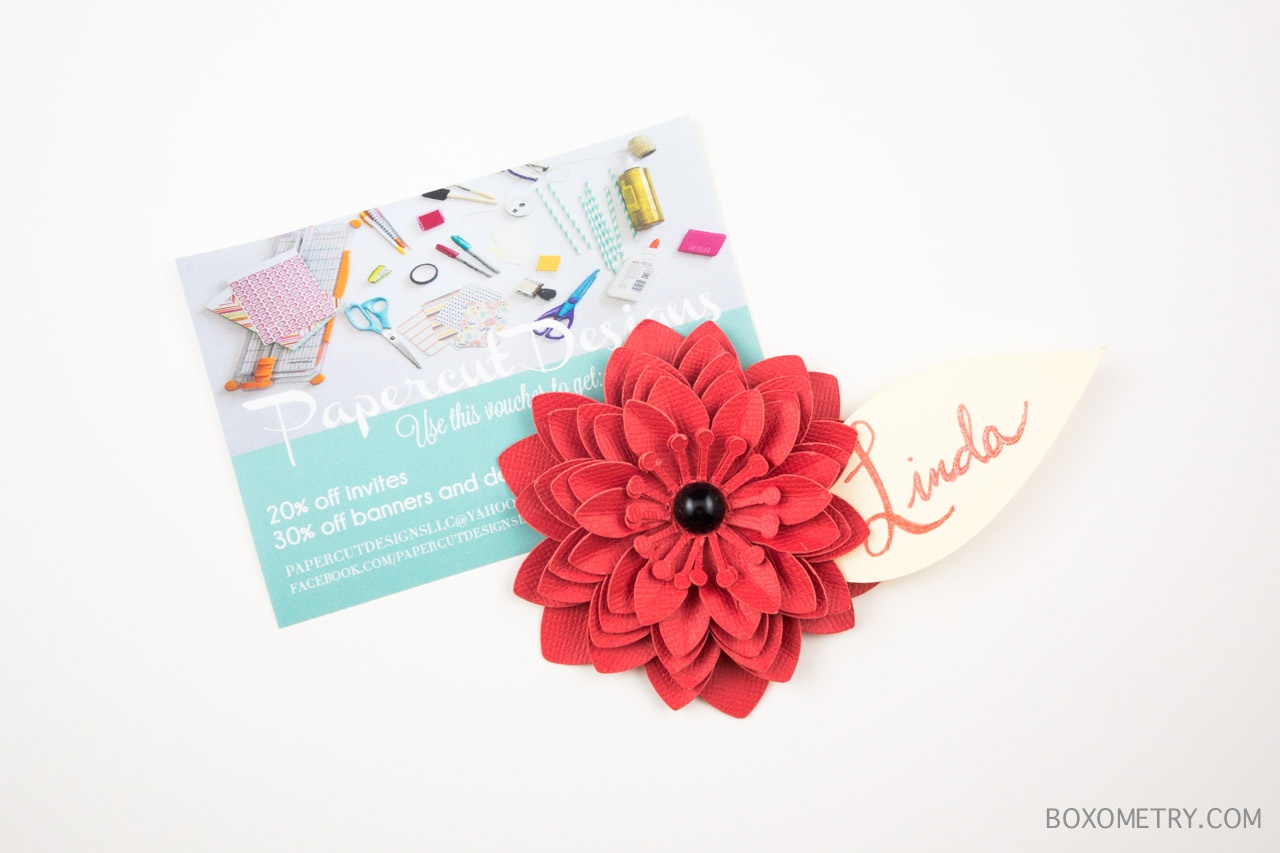 Product: Paper Flowers (Papercut Designs LLC)
Retail Value: $5.00 (Estimated)
Papercut Designs was featured in the July box. This month is a personalized paper flower, and it's very pretty! I couldn't find the same item in their etsy shop, so this might be exclusively made for the box. The value is estimated.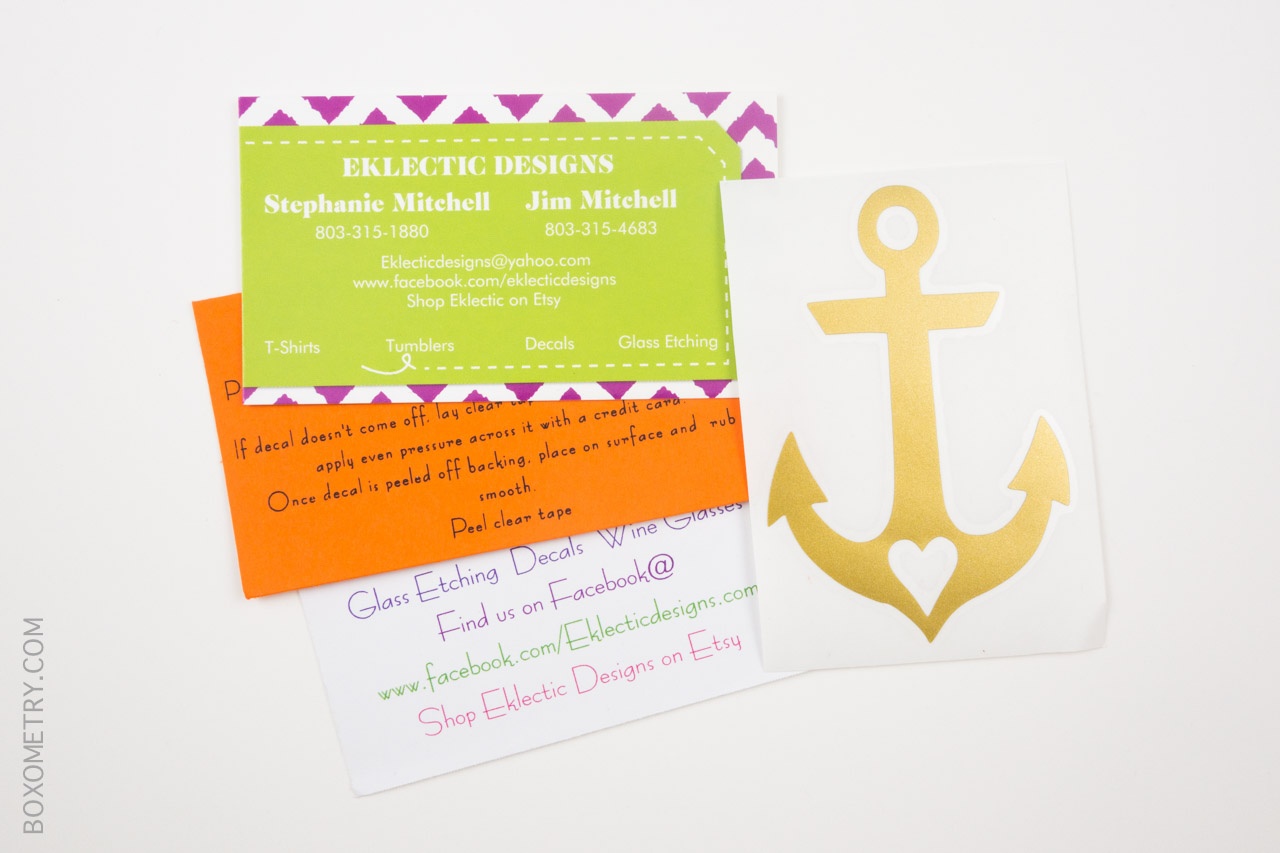 Product: Anchor Decal (Eklectic Designs)
Retail Value: $3.00 (Estimated)
This is cute gold anchor decal. It comes complete with instructions on how to apply it. It's very well made, and I love the heart symbol on the anchor. I didn't find the exact decal in the store, so the value is estimated.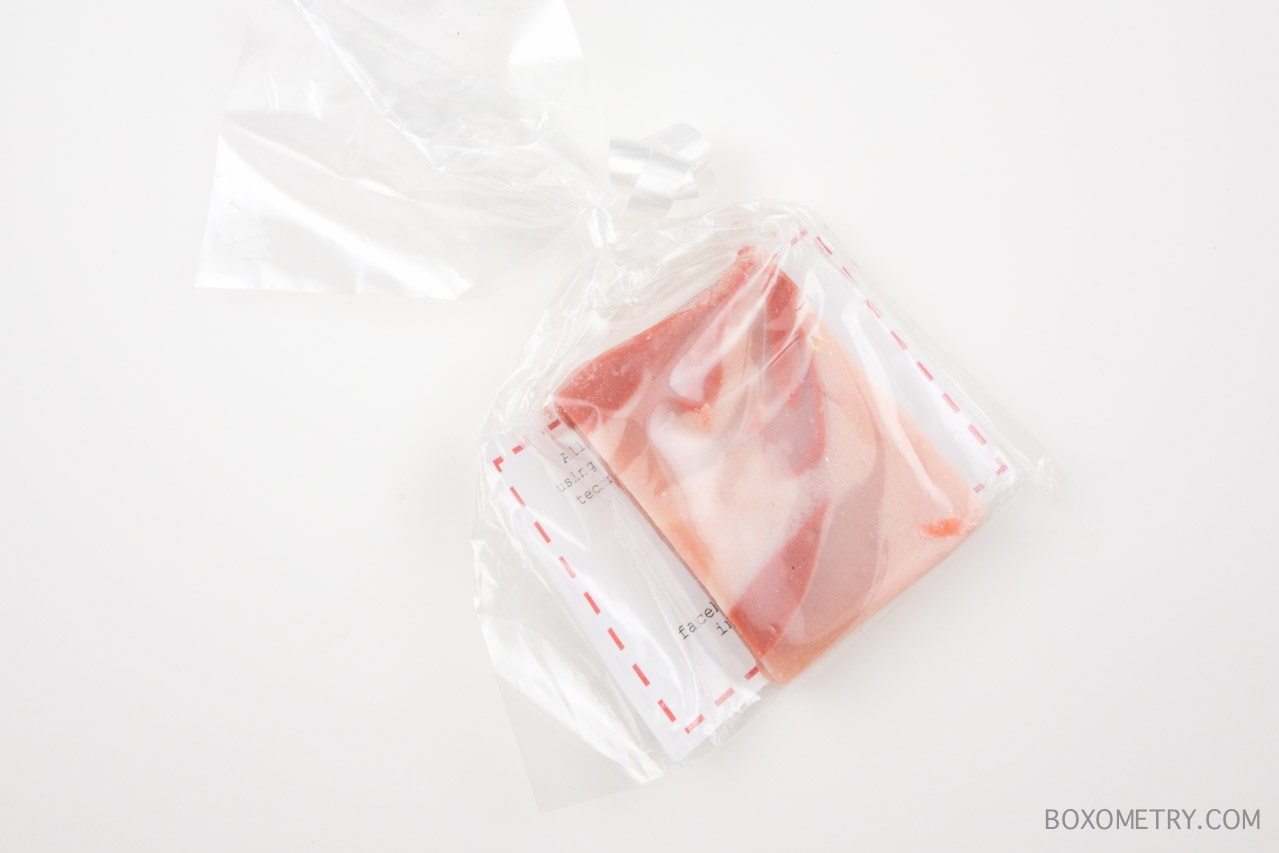 Product: Soap Sample (Woolin & Co)
Retail Value: $1.69
I couldn't find information on how big the sample is, so I am assuming it's about a quarter of the full-size version. I love the lightly scented cherry blossom fragrance. It is composed of Olive Oil, Coconut Oil, Sustainable Palm Oil, Canola Oil, Avocado Butter, Mango Butter, Shea Butter, Castor Oil, Fragrance Blend, Titanium Dioxide, Red Oxide, and Ruby Mica.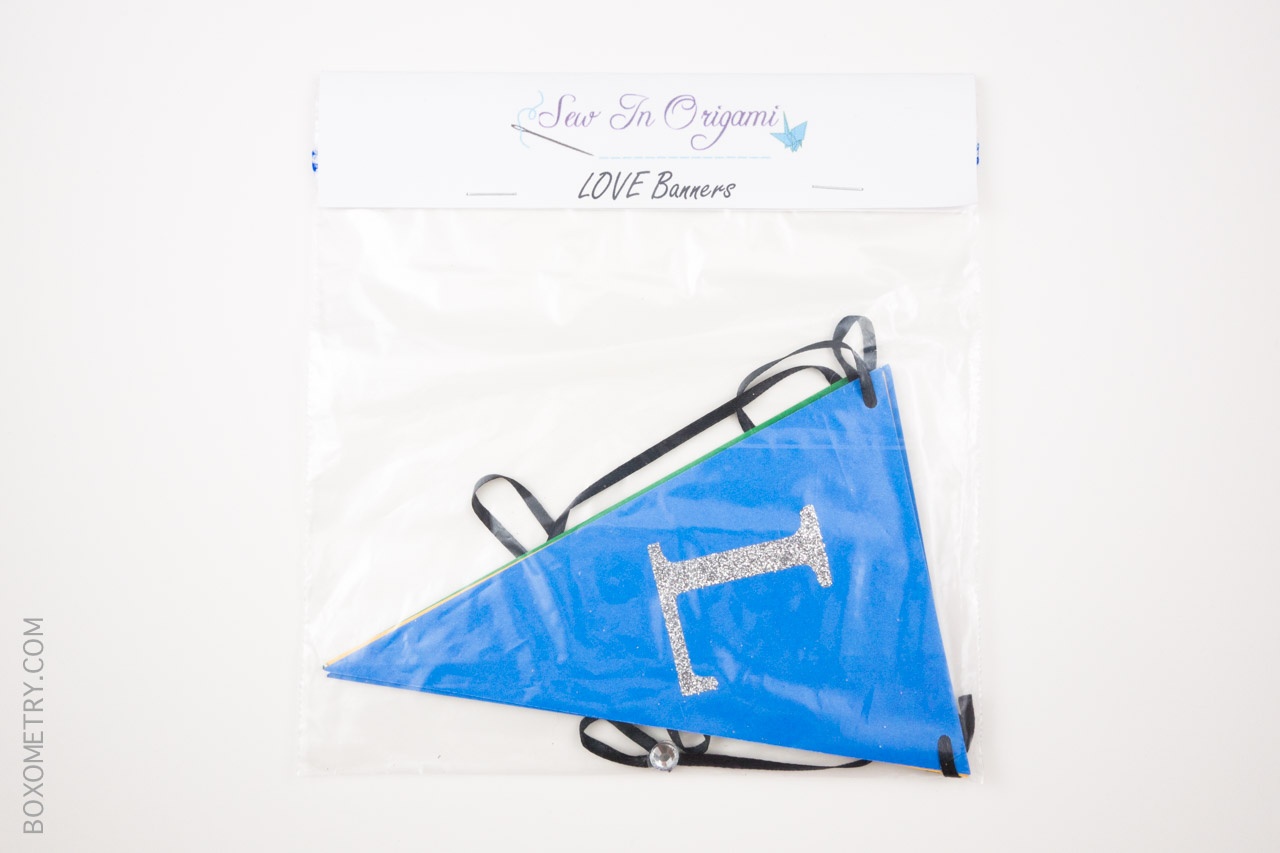 Product: LOVE Banner (Sew In Origami)
Retail Value: $6.00
This is a lovely LOVE banner from Sew In Origami, who was also featured in the July box. I think I will hang this banner in our bedroom.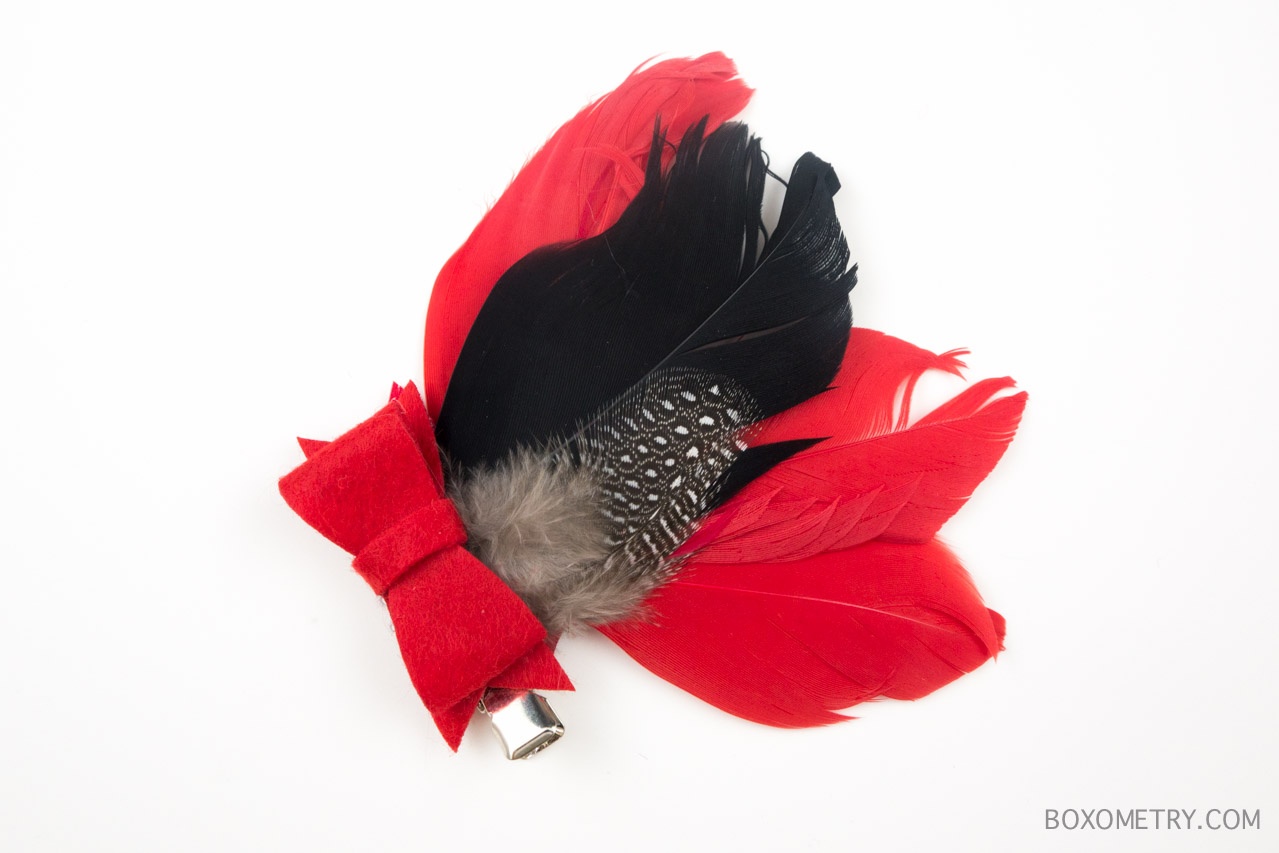 Product: Feather Hair Clip (One Innocent Feather)
Retail Value: $10.00 (Estimated)
This feather clip appears to be exclusive to the box since I can't find the exact one in their etsy store. Therefore, the value is estimated. It appears the headbands and clips in the shop are made for babies/kids. It's so lovely though, I might try to wear it (if I can pull it off somehow).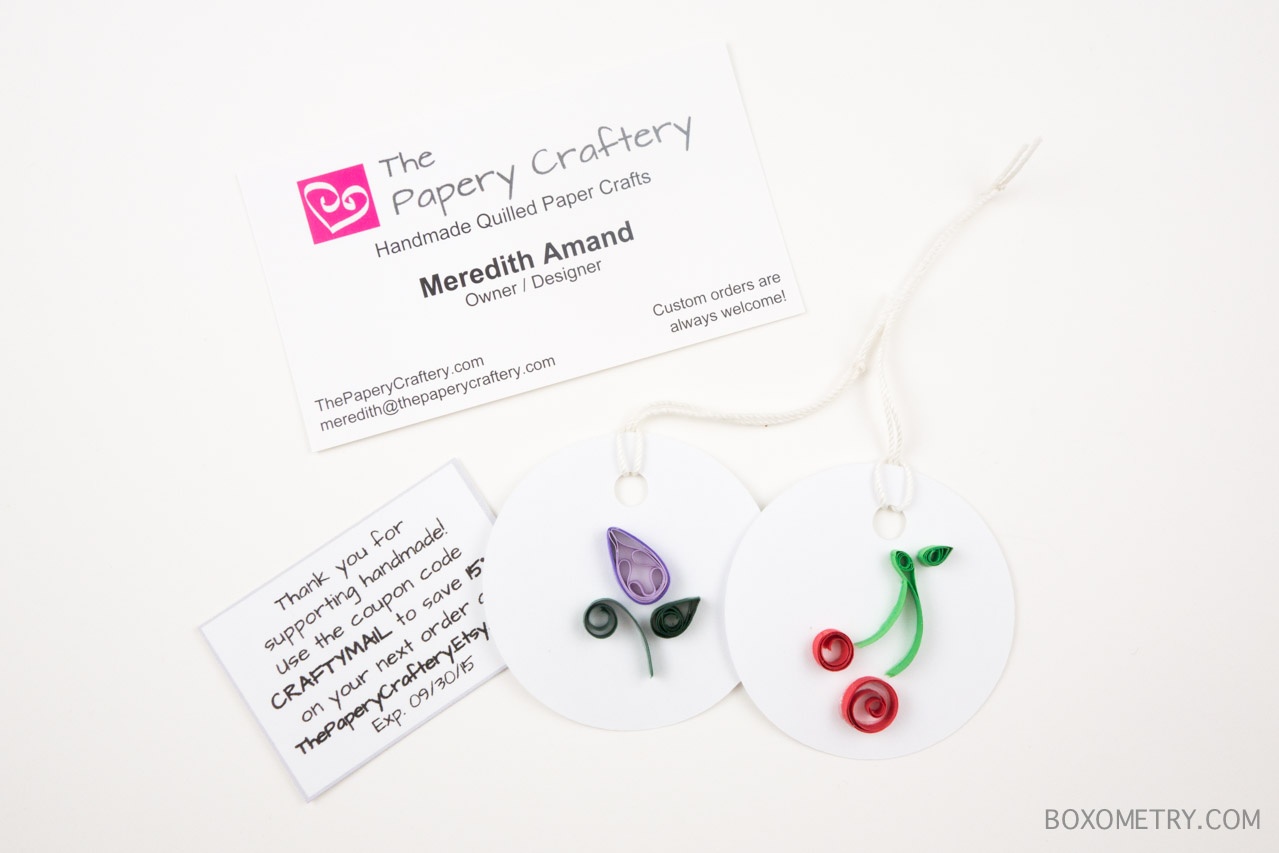 Product: Gift Tags (The Papery Craftery)
Retail Value: $2.00
These paper craft gift tags are really neat. I love the flower and cherry designs, and will enjoy using them.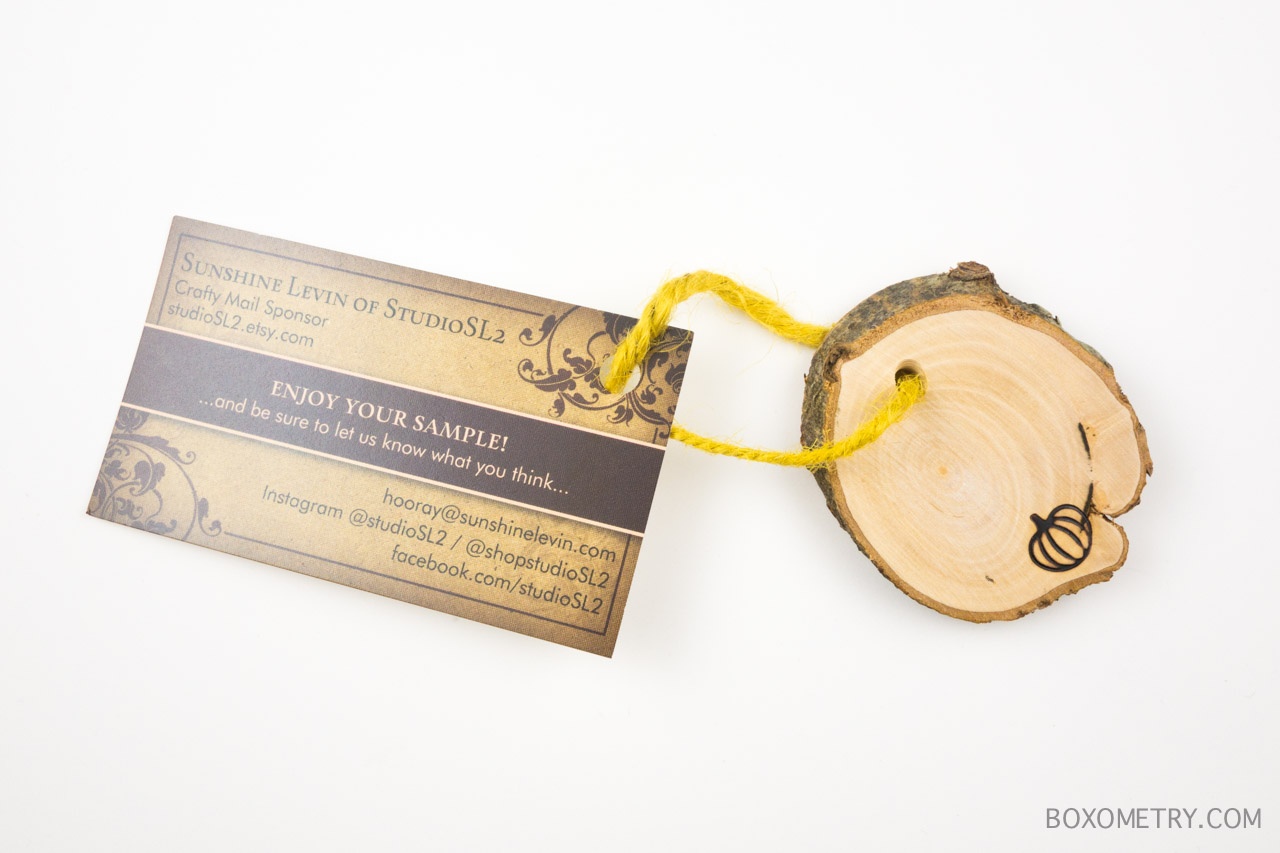 Product: Wood Slices (Studio SL2)
Retail Value: $5.00
I really like Studio SL2's wood gift tag from last month. This time they included a wood slice with a little pumpkin carving. It's great for Fall, and works as an ornament. Studio SL2 also offer a custom version where they will engrave your initials on the wood piece.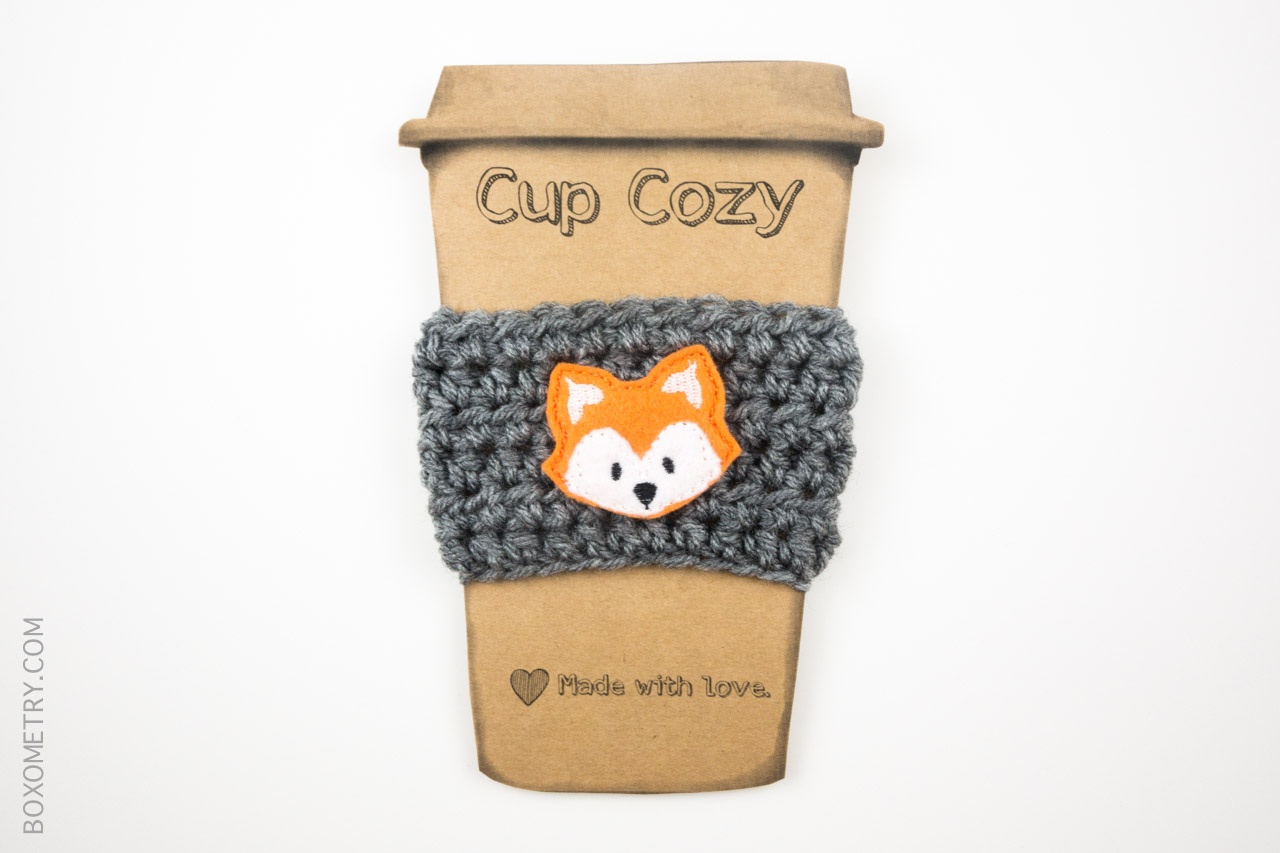 Product: Cup Cozy (CraftyCousinsSC)
Retail Value: $10.00
The Foxy Cup Cozy is ridiculously cute. I love foxes because I have a dog that looks like a fox (who also cleans herself like a cat). It is also super useful for hot or cold drinks, and is well made. Honestly, go buy one!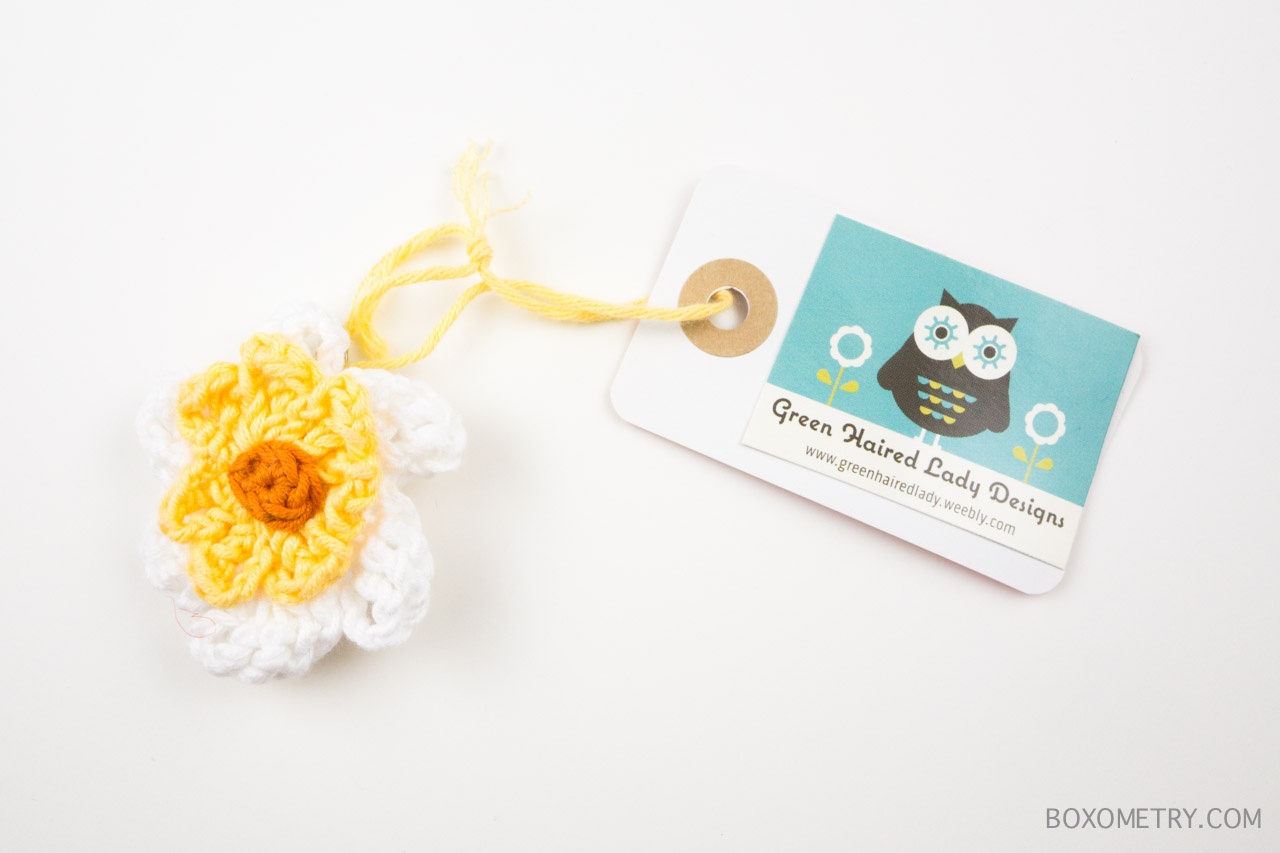 Product: Brooches (The Green Haired Lady)
Retail Value: $6.00
This is a nicely crocheted flower brooch. I estimated the value since it is not sold in their etsy shop, which is from the UK!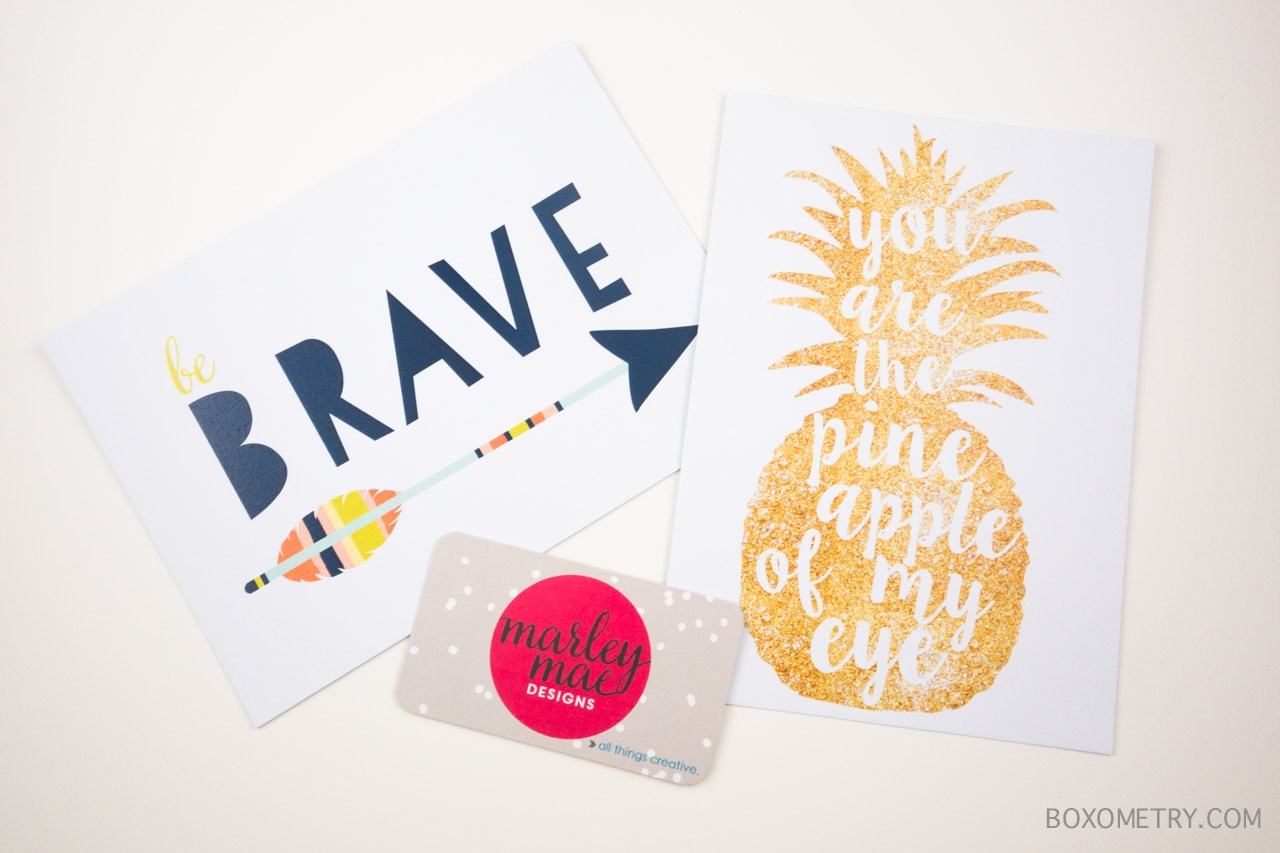 Product: 5x7 Prints (Marley Mae Designs)
Retail Value: $6.00 (Estimated)
These lovely prints are created by Marley Mae Designs, who specializes in custom card design and print. The value is estimated since the site does not directly sell ready-made cards.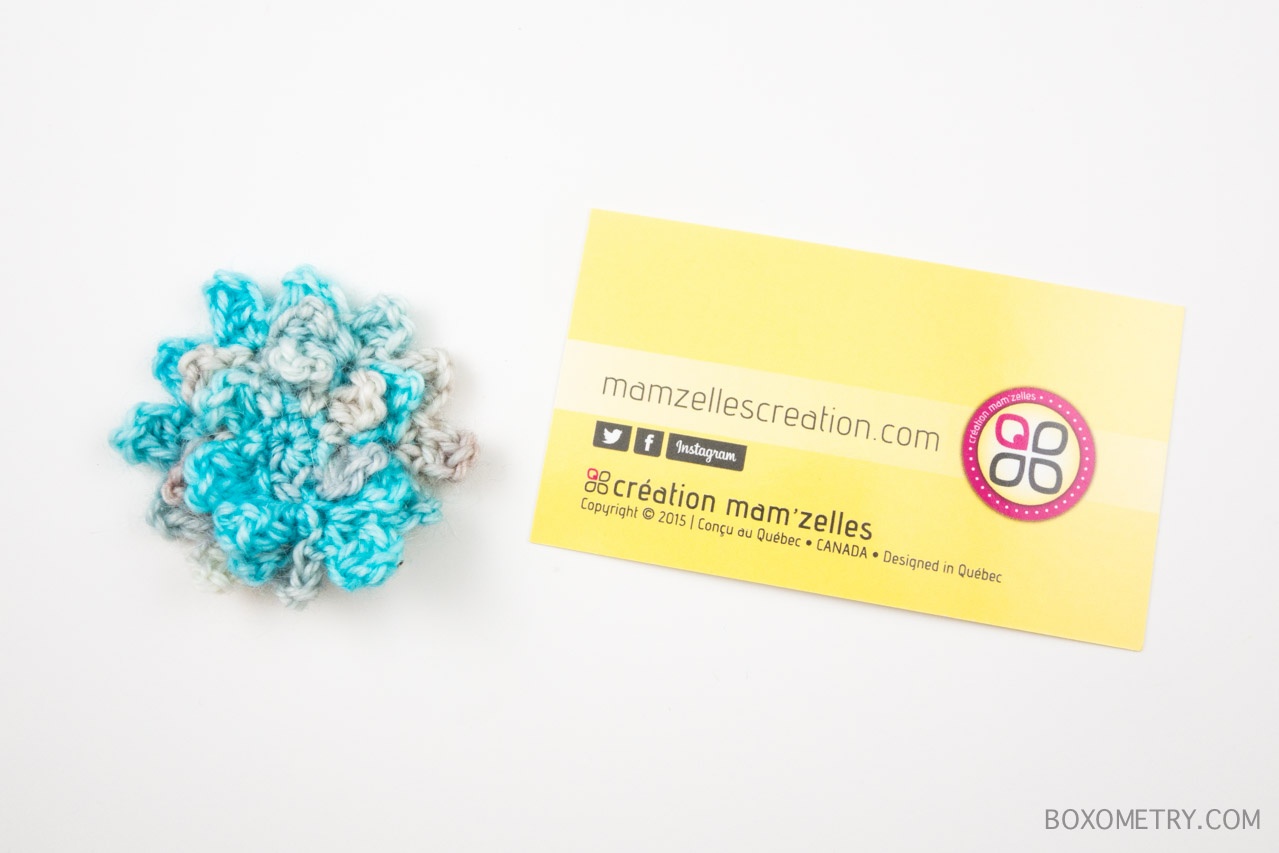 Product: Hair Clips/Buttons (Creation Mam'Zelles)
Retail Value: $5.00 (Estimated)
I seem to be doing quite a bit of estimating since a lot of items are exclusive to the box, including the hair clip from Creation Mam'Zelles. This is a cute blue and gray crocheted floral hair clip.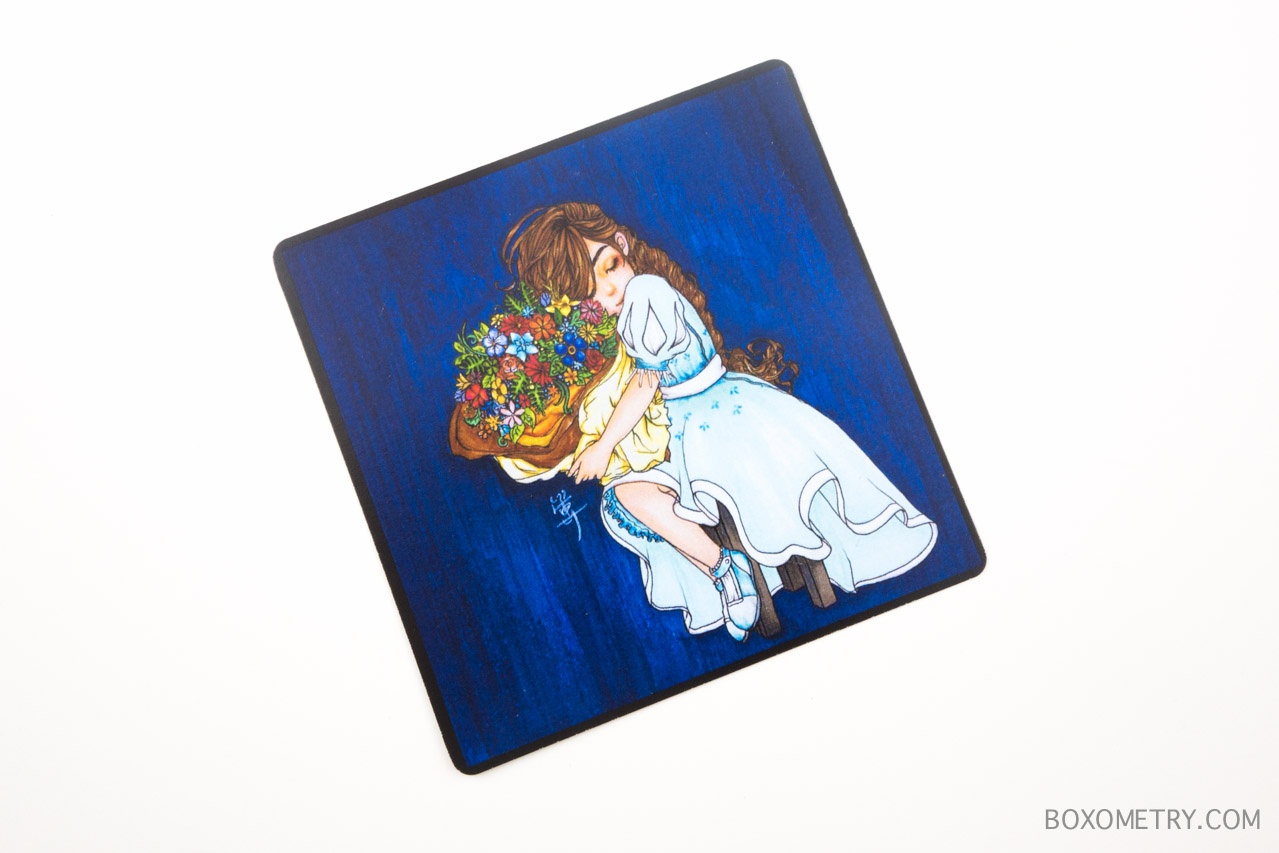 Product: Self Love Print (Icebergtipping)
Retail Value: $2.00
This is a cute little print entitled "Self Love." It's about 3 x 3 inches, and has the artist's information on the reverse side.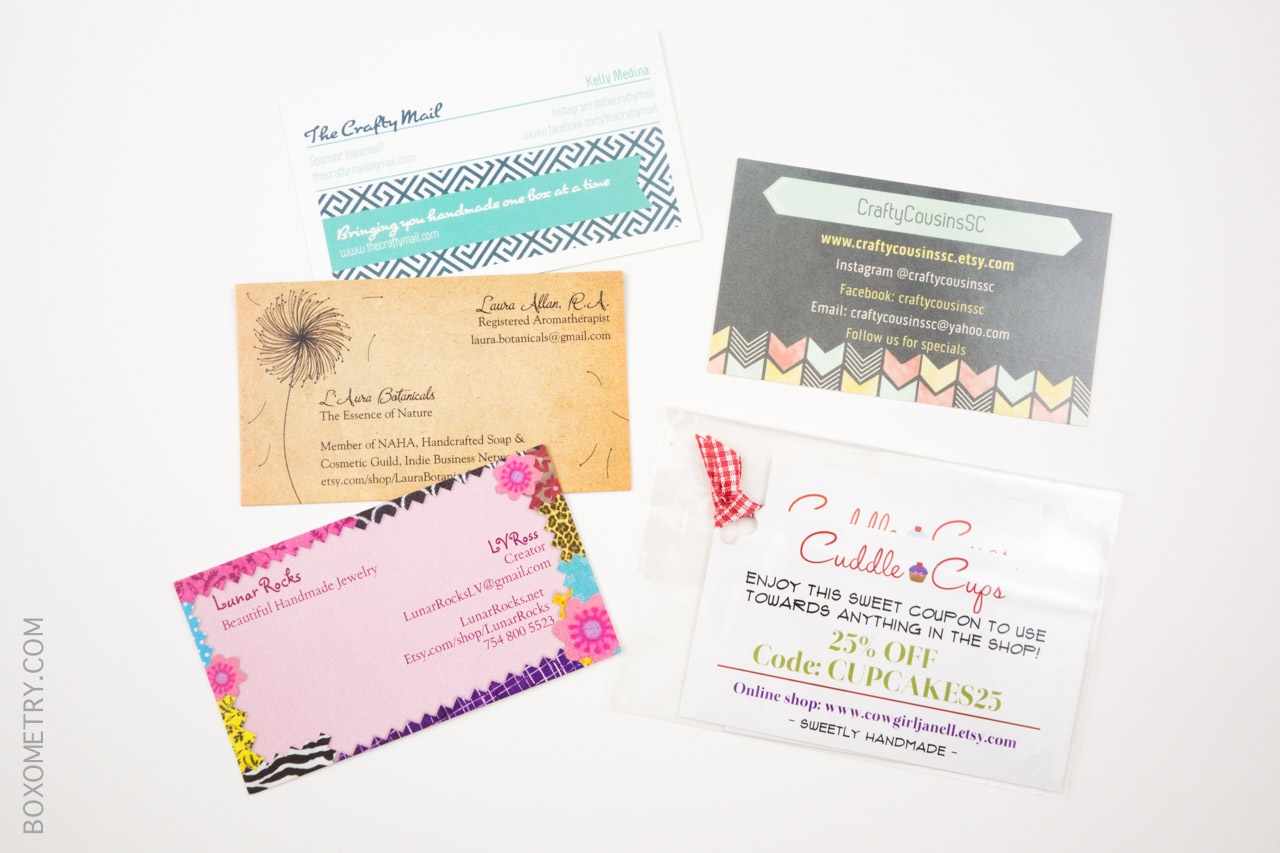 Product: Coupons & Business Cards
There are also various coupons and business cards from different artists.
Final Thoughts: There are so many goodies in this month's box! I love all the handmade products that are both cute and useful (i.e. gift tags). I have to mention again that I love the Cup Cozy with the fox. I can't get over how adorable it is! This is another great box from The Crafty Mail. If you aren't subscribed yet, be sure to check them out and support handmade. Also, if you are subscribed, don't forget to hashtag #thecraftymail and the makers to win your next box for free!