Plum Deluxe Tea of the Month Club is a monthly tea subscription service. For only $10/month, subscribers get a fresh seasonal tea, along with samples of other teas, access to a supportive Facebook group, monthly tea time recipes + food pairing tips, and a monthly tea leaf reading, along with extra surprises.
Read more Plum Deluxe Tea of the Month Club reviews.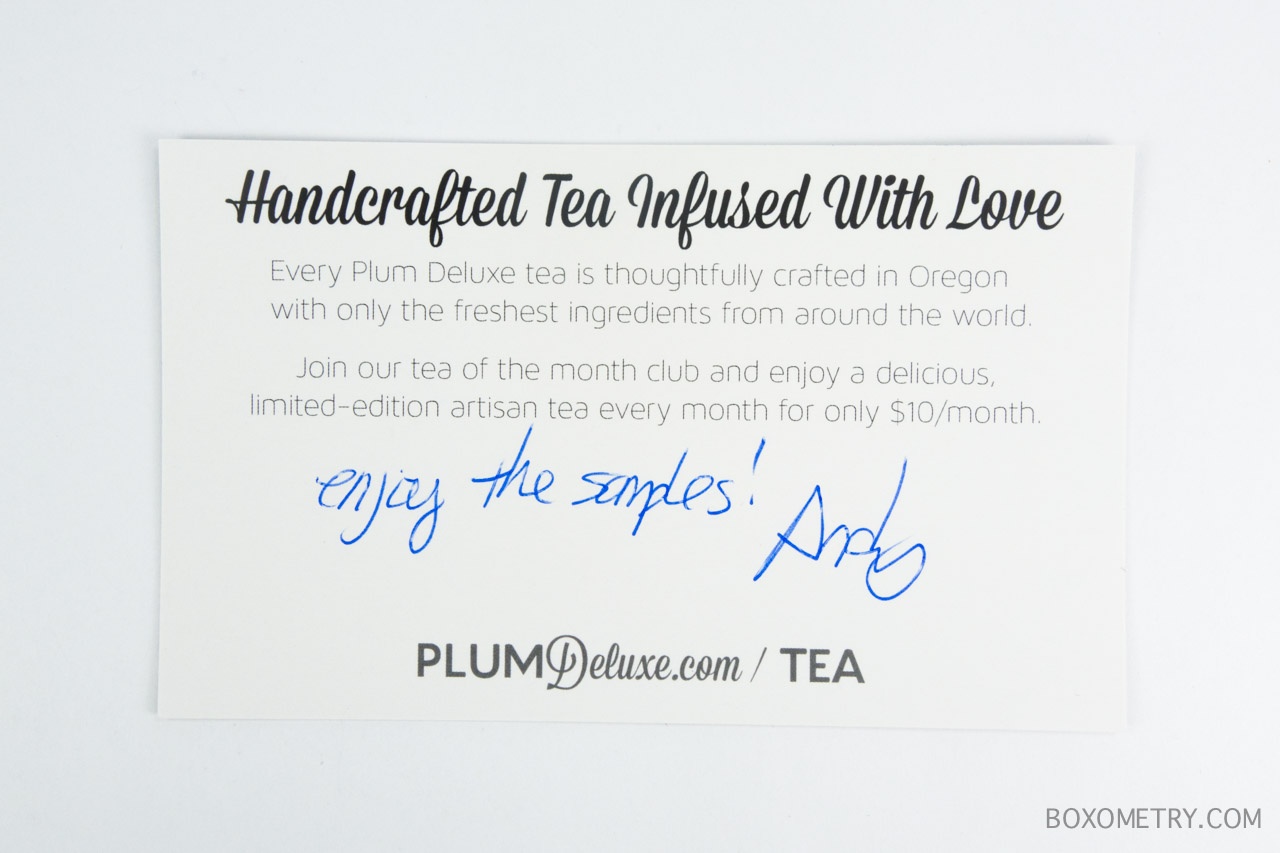 The box includes a few cards and notes. Here's a little card with the club information and URL.
Product: Grateful Harvest Blend Herbal Tea
I love the colors in this blend. The Grateful Harvest Blend is "a tea to give thanks for dreams come true." It is composed of all organic ingredients: Honeybush tea, Orange Peel, Cocoa Nibs, Rose Petals, Natural Flavor Essence, Love and Gratitude. This blend is non caffeinated. I forgot to mention that you can choose from caffeinated vs non caffeinated teas.
Product: Ease Herbal Tea
The Ease Herbal Tea is intended to calm and relax. It is a blend of all organic Hibiscus, Orange Peel, Rose Hips, Rooibos Tea, Peppermint, Licorice Root, Raspberries, Milk Thistle, Passionflower, Lavender, Lemon Balm, Calendula, and Raspberry Essence. It is another beautiful blend of colors, and has so much flavors in this little bag.
Product: Chocolate Hazelnut Dessert Tea
I love that Plum Deluxe included a dessert tea. Although I don't eat a ton of sweets, I do enjoy a bit of dessert after a meal. The Chocolate Hazelnut Dessert Tea is an organic blend Honeybush Tea, Cocoa Nibs, Hazelnut Pieces and Hazelnut Essence.
Final Thoughts: First of all, I love that all of the teas are blended with organic ingredients. Secondly, the teas are all yummy with their own unique flavors. The presentation of the blends are beautiful to look at, which would also be great to give as a gift to any tea lover friends. For $10 a month, I think Plum Deluxe Tea of the Month Club is reasonably priced. You pay about the same, if not more, at Teavana, which aren't all organic.