This is not a traditional subscription box review. Thirty One Bits is a jewelry company that hand crafts all of their products from recycled materials sourced from Eastern Africa which helps support local markets. The upcoming FabFitFun Spring 2016 Box will include a $25 gift card to Thirty One Bits, so here's a little preview of you can purchase.
Please note that this box will sent to us for review purposes. No compensation was received, and all opinions are my own.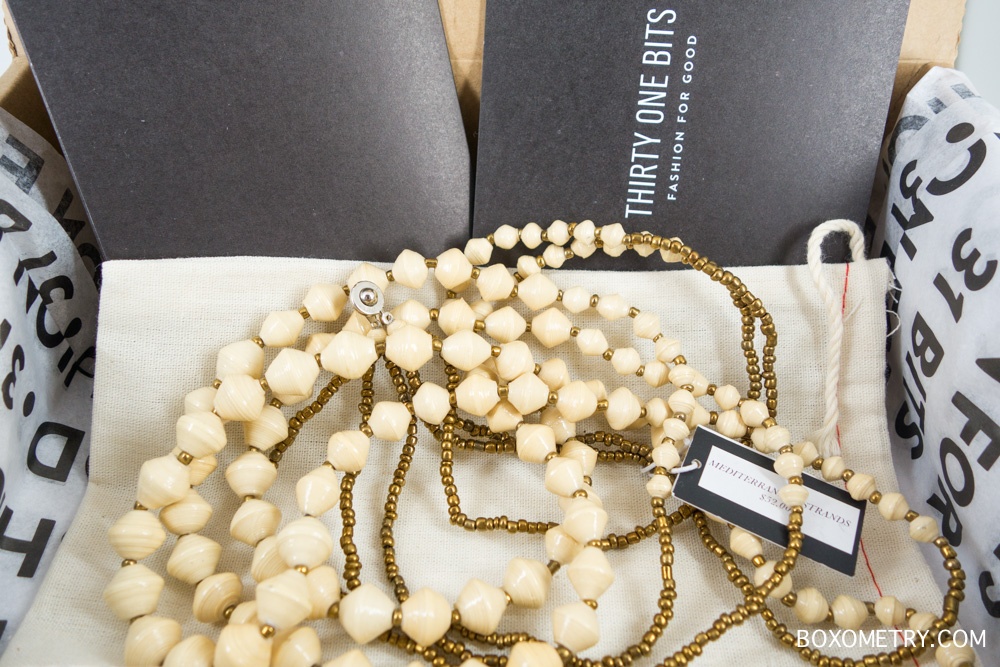 First of all, I love the packaging. Thirty One Bits' motto is "Fashion for Good." The above is a look inside the box.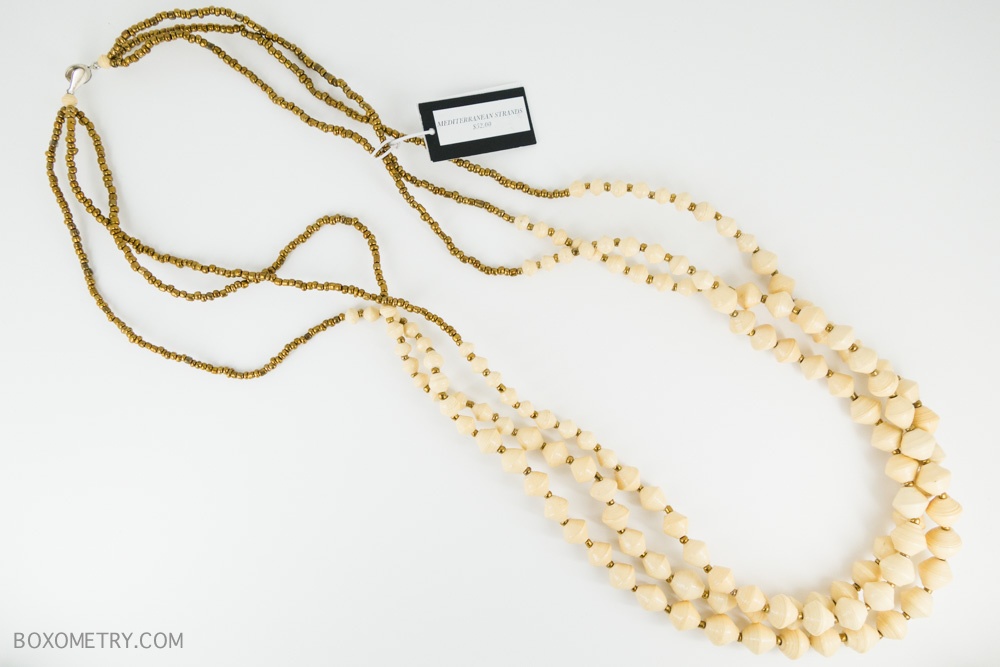 The necklace I received is called Mediterranean Strands and has a retail value of $52. It has three tiers of beads, from small to large. I like the neutral colors of bronze and ivory. It will go well with many outfits. According to the Thirty One Bits product details, all of their beads are made from recycled paper! I couldn't even tell. Here's some background on their products:
Our beads are made from recycled paper…that's right…PAPER! Our beneficiaries cut unused posters, advertisements, and text book pages into long strips. They roll the strips tightly and coat them in a water-based varnish. The varnish hardens the beads as well as provides a protective coating. The beads are then strung into a design, or sewn onto one of our embroidered pieces. You'll also find other materials used in our products like funky printed fabrics and beautiful shades of leather. 99% of our materials are sourced in Eastern Africa, supporting local markets.
To clean the jewelry, you simply need to wipe them with a damp cloth.
I appreciate that Thirty One Bits products are all handmade and from responsibly sourced materials. They are also beautiful and versatile. Each purchase goes to a good cause, and helps to "empower people to rise above poverty."
If you'd like to receive a $25 gift card to Thirty One Bits, be sure to sign up for FabFitFun's Spring 2016 box. You can use our exclusive coupon code BOX10 to get $10 off your box! Click here to see what was featured in past FabFitFun boxes.