I was subscribed to Citrus Lane for about 9 months. During that period, I also purchased a couple of mystery boxes when they went on sale (I can never resist them!). Since I've accumulated quite a bit of toys for my son, I decided to temporarily cancel my subscription. They make the process super easy, so I never have to worry about any cancellation issues.
Citrus Lane has been running quite a few promos lately. I decided to re-subscribe when I saw the offer for 30% off first month plus a free mystery box. You can read the mystery box review here. The good thing about these deals is that you don't have to be a first-time subscriber to use the code. I was considered an "inactive" subscriber, so it allowed me to apply the coupon.
Since my son is about to turn one, I was curious about what type of products they would send. I have plenty of toys, books, and clothes for the 0-12 month range from previous boxes. I actually modified his birthday to a couple months earlier to ensure that I receive items for an older age group. The box I'm reviewing is for 1-2 year old boy.
Subscription: Citrus Lane
What's Included: 4-5 toys, books, snacks, clothes, or toiletries for newborns and kids up to 5 years of age. Sometimes there's even an item for mom.
Price: $29.00 per month with free shipping (or 3-month for $27.00 per month, 6-month for $24.00 per month).
Ships To: US only.
Coupon: Use coupon code HAPEBONUS to get 30% off your first box plus free Hape Ice Cream Shop sand toy (promo good until 6/14/2015), or use code TAKE40 to get 40% off your first box.
Read more Citrus Lane reviews.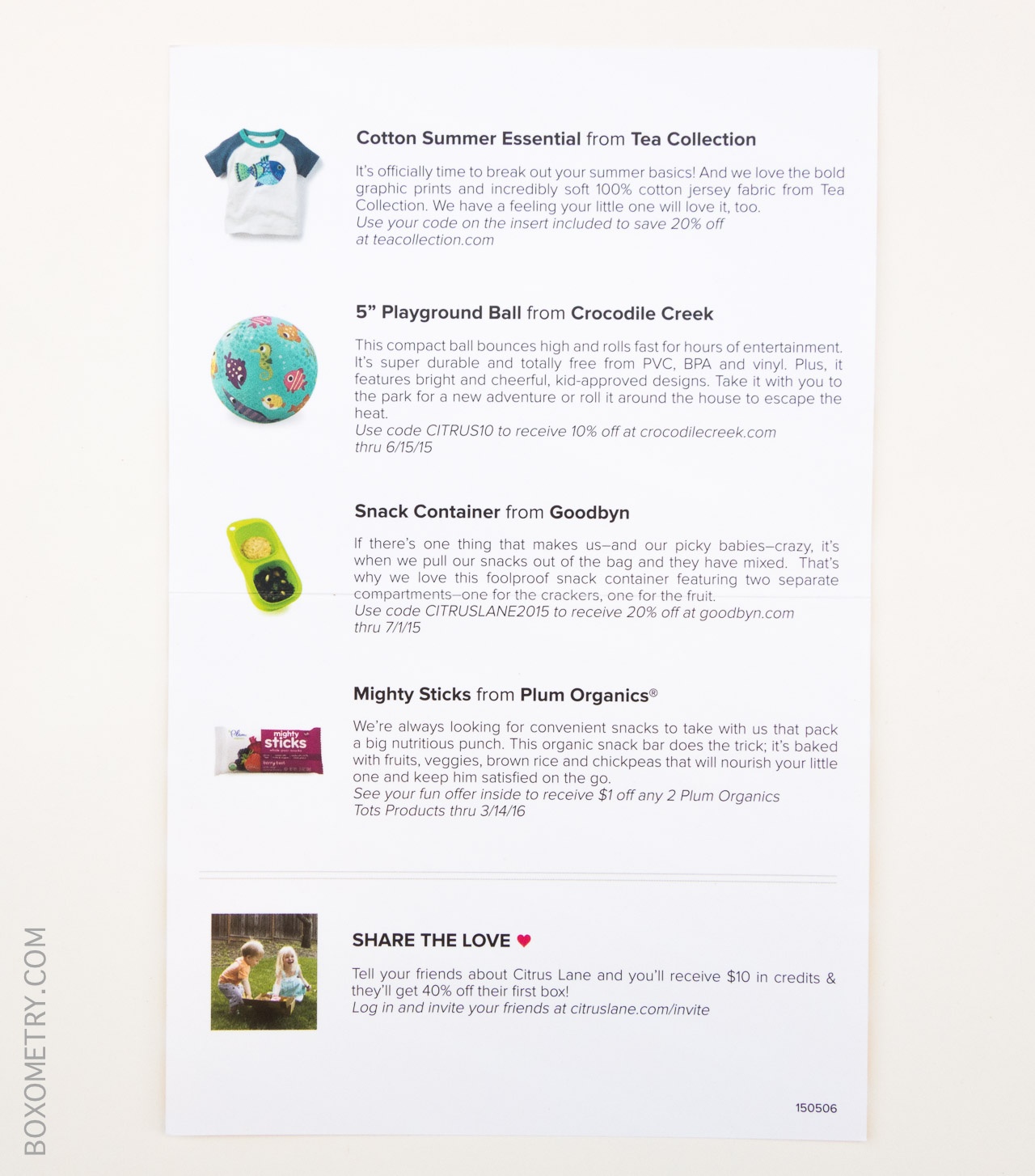 The box comes with a folded card detailing all of the products, as well as any exclusive Citrus Lane coupons for the featured brands.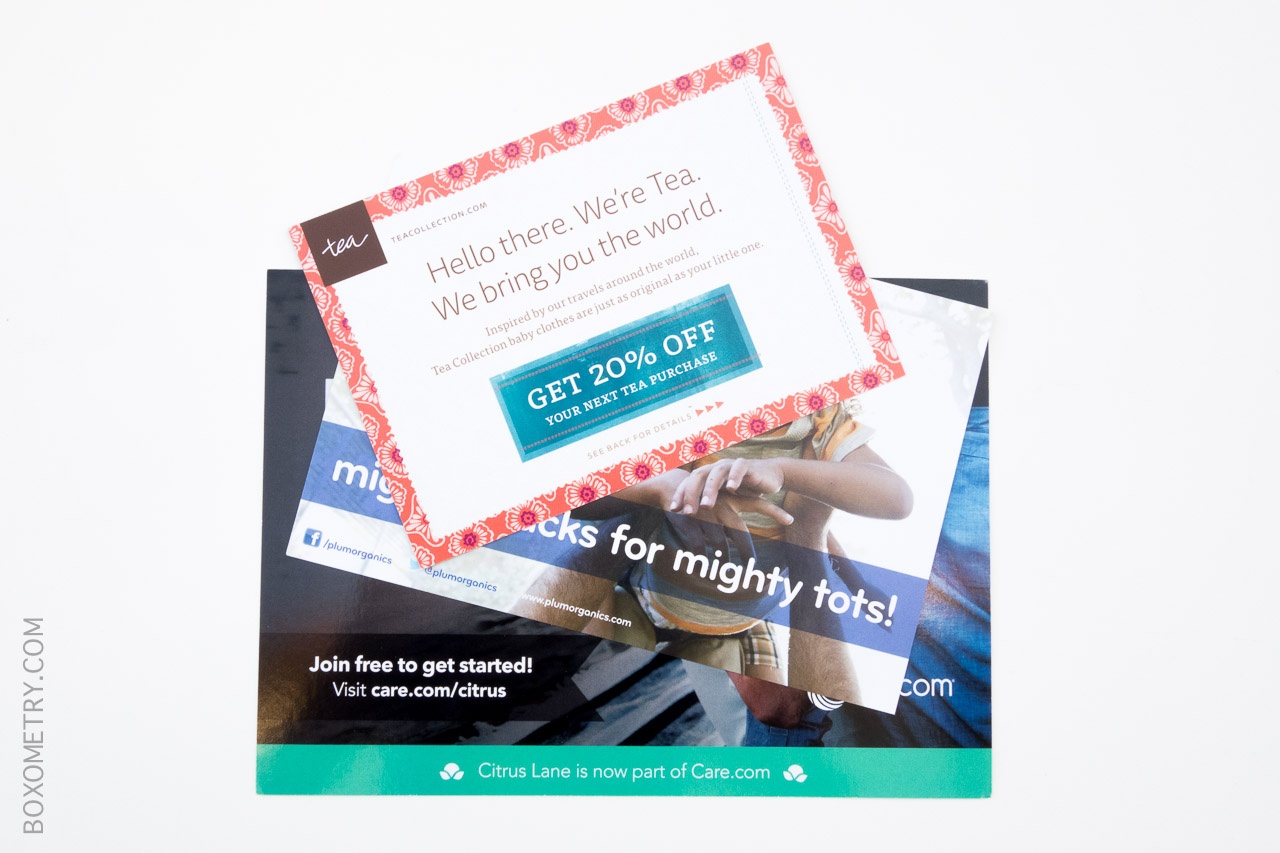 These are the included coupons.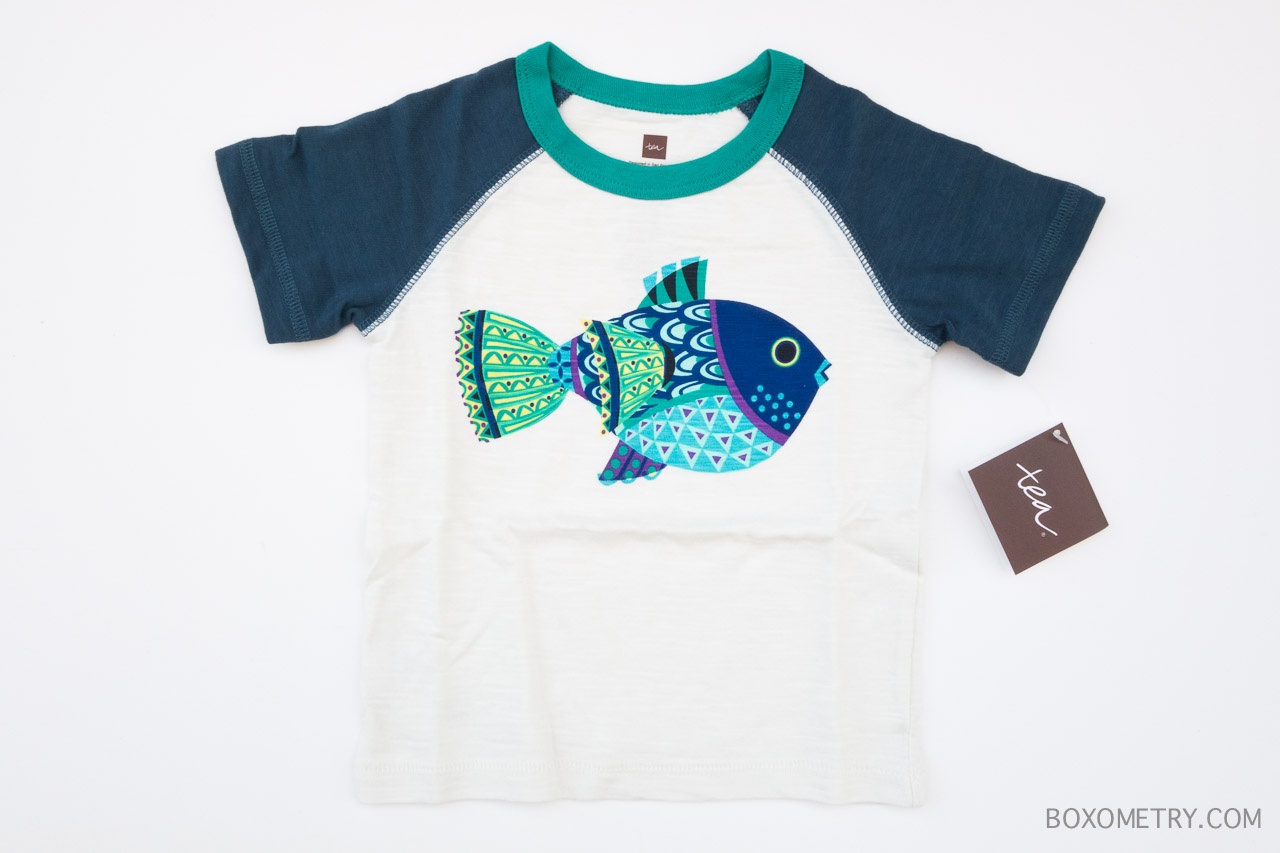 Product: Baby Blowfish Graphic Tee (Tea Collection)
Retail Value: $26.50
Although I try to buy organic cotton clothing for my little guy as often as I can, there's limited design, availability, and variety. I've received a couple of Tea Collection jumpers from past boxes, and really like them. This Baby Blowfish Graphic Tee is cute and soft. I love the prints and beautiful colors on Tea Collection's products. The size is for 18-24 months, so it's still a little big. However, babies grow fast. I'm sure he'll fit in no time.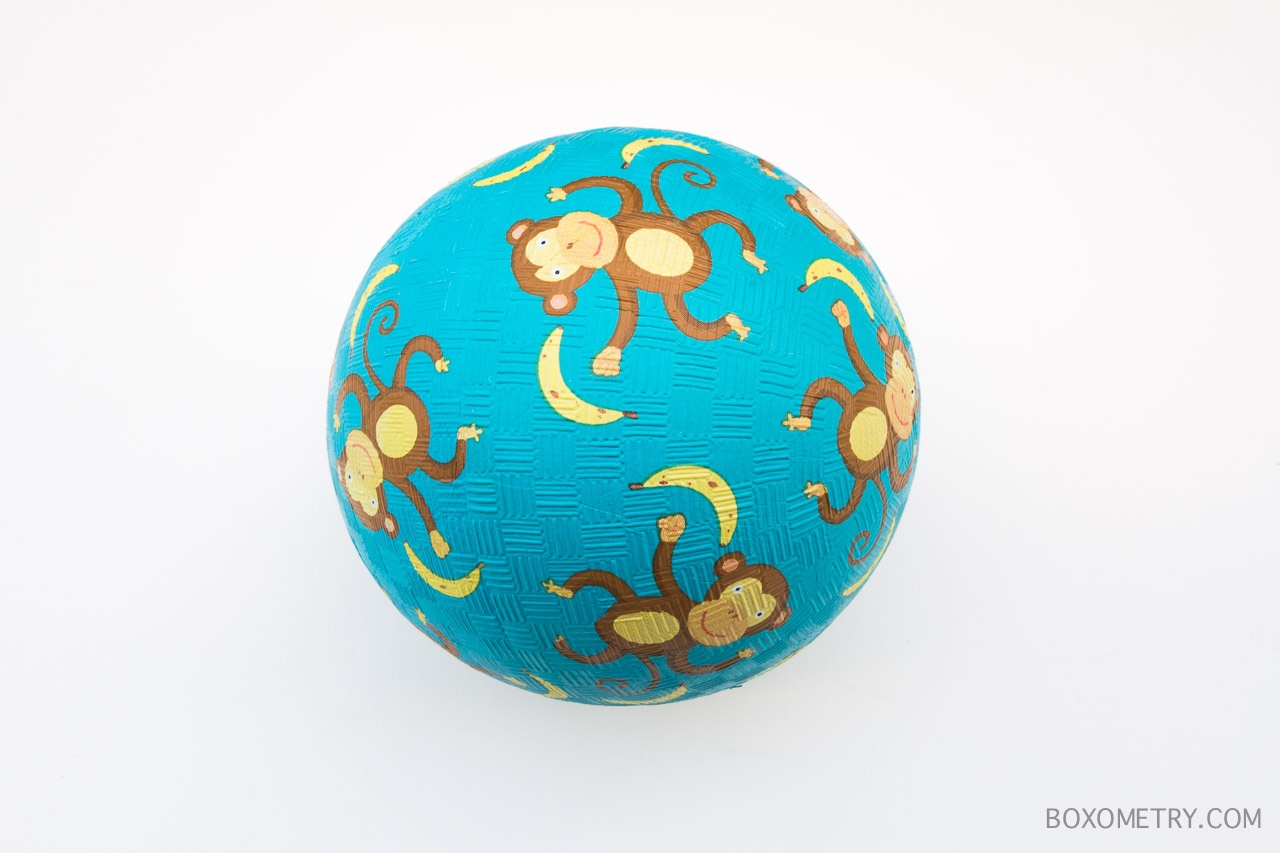 Product: 5" Playground Ball (Crocodile Creek)
Retail Value: $9.99
This playground ball is highly rated by Amazon moms. It feels very durable and bounces well. It's made of natural and synthetic rubber and contains no PVC, BPA or vinyl. There are a ton of designs available as well. The ball is slightly big for my son, but he giggles everytime I bounce it for him.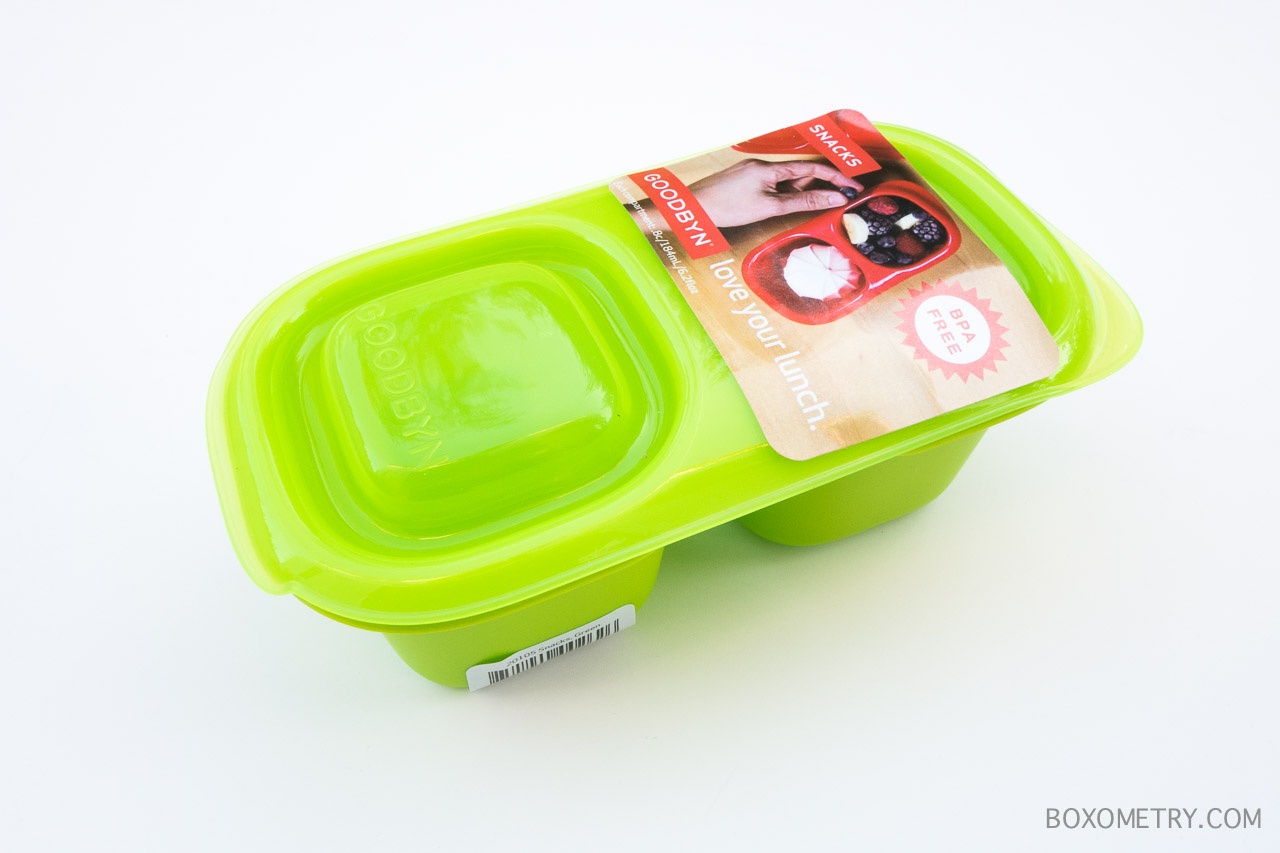 Product: Snack Container (Goodbyn)
Retail Value: $5.50
Goodbyn Snacks container is designed with two compartments to keep snacks separated. It is dishwasher safe in the top rack, and BPA- and phthalate-free, and 100% recyclable. Containers like this are always useful for me. Although the retail price is $5.50, it is currently on sale for $1.25 with $3.50 flat rate shipping on the manufacturer's site.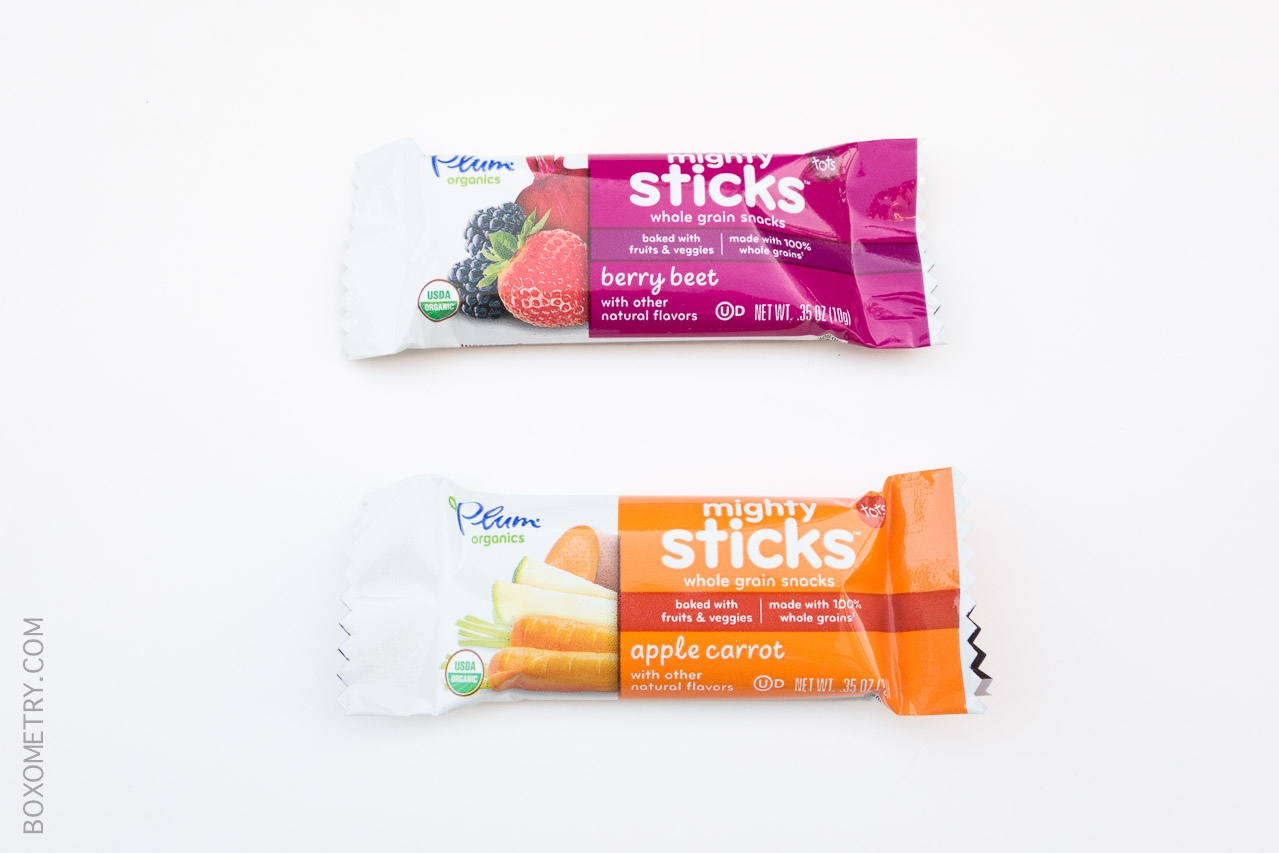 Product: Mighty Sticks (Plum Organics)
Retail Value: $1.13
Mighty Sticks from Plum Organics are whole grain snacks baked with fruits, veggies, brown rice, and chickpeas. The Mighty Sticks have two different flavors available: Apple Carrot and Berry Beet. Citrus Lane included samples of both. These on-the-go snacks are made for toddlers, and my son will be able to enjoy them every soon.
Final Thoughts: The retail value of this box is $43.12. While the value isn't exceptional, I like the curation of the products. There's a good variety of items, from clothing to toys to snacks and food container. In addition, I also got a free mystery box, so I'm happy with my purchase.